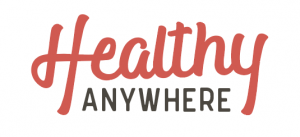 Goodbye stress-eating. Hello, smart strategies and eating for success. 
If you've recently reached for "comfort food" or "junk food", you're not alone.
But it's important to remember that "junk food" puts even more stress on your body. 
Stress-eating fuels a vicious cycle that only creates more stress!
Tense times call for proactive self-care, lest you fall into anxious stress-eating, stress-drinking, doom-scrolling, or worse – all three at once! 
Next time you feel anxious or stressed and find yourself reaching for food or alcohol, stop yourself and go through our strategies below. 
1. Keep Calm. Slow it Down. 
Strive to eat or drink only when you're present and in the moment.
Anxious eating or drinking is the worst. You don't enjoy it, much less notice it! And you can actually minimize any nutrition benefits. 
Remember: Your body absorbs nutrients best whenever it's calm and at rest. 
Slow down. Take a few deep, deliberate breaths. Perhaps even right. now. 
Related: Take charge of what you can control. 
2. Hydrate throughout the day. 
If you think you feel hungry but haven't had any water in the last hour or so, drink some water and wait 15-20 minutes to see if you're actually hungry. Sometimes when stress-eating, you might be slightly dehydrated and just need some water.
TIP: Have extra water nearby throughout the day & be sure to get around 6-8 8oz glasses of clean fresh water each day.
3. Be proactive. Eat FOR stress.
Did you know your body loses extra nutrients when you're stressed out? That's right, prolonged stress causes over-activation of the HPA axis, which in turn causes your body to more rapidly excrete water-soluble vitamins.1  
Opt for foods that replenish lost nutrients and calm your nervous system. 
Check our guide below on smart-eating strategies and purposeful nourishment for success against stress. 
Goodbye stress-eating. Hello, smart-eating for success.
# 1: Vitamin C: a stress-fighting antioxidant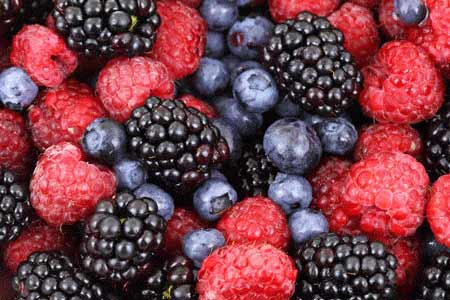 Vitamin C's antioxidant capacity in fighting free-radicals is key in fighting the ill effects of stress.
Vitamin C protects cells, tissues, and bone. It further promotes immune function, helps to boost detoxification pathways, and can even have anti-viral effects2. Bioflavonoids are nutrients that help amplify Vitamin C benefits.
To get the benefits of Vitamin C + Bioflavonoids, look for citrus, apples, bell peppers, papaya, broccoli, cauliflower, strawberries, parsley, and kale.1
# 2: B Vitamins: stress-busting, mood-promoting
B Vitamins are vital. They help your body produce energy, support a healthy metabolism and memory, and manage stress. B6 and B5 in particular provide support for the effects of stress.
B5 is essential in producing energy, supporting hormones, and preventing adrenal exhaustion from chronic stress. B6 helps stabilize your mood and sense of well-being by supporting serotonin levels, depleted by stress.1
B5 is found in animal products such as organ meats (i.e. offal) and egg yolks, vegetables such as broccoli, sweet potatoes, and mushrooms, as well as in whole grains and legumes. Soybeans and particularly miso are a good source of B5. (we only select Organic soy!) Pastured turkey and chicken are good sources of B6.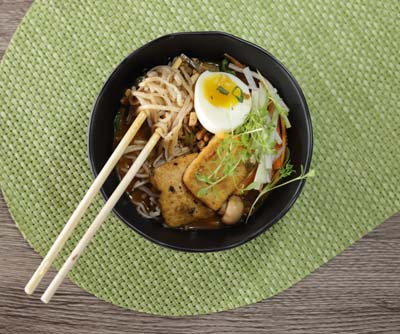 # 3: Magnesium & Potassium: magnificent minerals for strength and calm
Especially included in dark green vegetables, magnesium and potassium are key minerals for stress support. Dark green vegetables like broccoli, spinach, kale, dandelion greens, and beet greens actually help to calm your nervous system by stimulating the parasympathetic nervous system. This stimulation is a beneficial effect of the alkalizing minerals plus healthy chlorophyll contained within1.
Put it all together - Proactive eating for stress
What does proactive eating-for-stress look like?
Priority ingredients: 
Dark leafy greens (arugula, kale, spinach, chard, radicchio) with vibrant colored vegetables (beets, radishes, red/orange/yellow bell peppers, carrots, broccoli, sweet potatoes, etc) and fruits (berries, papaya) and healthy fats (avocado, extra virgin olive oil). 
+ Healthy protein sources like pastured eggs & chicken, wild fish. 
You can find these together in a beautiful salad or featured as a main dish at a nearby local sustainable restaurant. 
At Healthy Anywhere, we're analyzing menus to find the best, nutrient-dense and delicious dishes. We look for compositions that maximize the content and variety of nutrition. And of course, we prioritize organic and as locally-sourced as possible. 
Enjoy eating the best, and stand strong against stress!
Want to enjoy the best of healthy near you? Get on our priority waitlist and we'll let you know when we're live in your area! 
Bauman, E. (2017). Foundations of Nutrition Textbook. Penngrove, CA: Bauman College.

Lipski, Elizabeth Ph.D. (2012) Digestive Wellness, 4th Edition. McGraw-Hill.
We help people everywhere eat and live 'healthy anywhere'.
Through holistic nutrition principles, research, and data science, we connect you to delicious organic foods and healthy habits – at home and on the road. 
If you haven't already,  join our Healthy Anywhere community to get blog digests and exclusive email updates. Let us bring you the best, so you can be your best. 
Eat Clean + Breathe Deep + Move Often = Never Settle™