This article is part of our Nutrition + Dining series. Here we explore holistic health topics and share favorite dishes from aligned restaurants.
Healthy and new restaurants we're excited to try (or love already): 8 top spots in California
part I of III
We're celebrating all the brave and beautiful "healthy" restaurants that newly opened across the past year, with a few that pushed openings into 2022. 
In total, over 550 spots that opened in or after January 2021 were considered. We focused on areas where we have readership. 
We sought a good representation of "healthy" aligned with our ethos of "good for body, Earth, and soul", transcending diets and dogma.
Our resulting hand-selected top list of healthy and new restaurants for 2022 feels about right.
And yes, we picked the top 22 for '22.
Part I kicks us off in California, around our San Francisco Bay Area home base and including Wine Country and SOCAL favorites. 
Enjoy this 'taste' of healthy.
In no particular order, grouped by location. 
Details on these and hundreds more like them are available through our exclusive members-only Collection, including quick filters, links, and thoughtful design for health and eco-conscious eaters.  
Our top picks for healthy new restaurants in California for 2022
Modern Russian Kitchen
Opening Feb 9, 2022, Sunday brunch starts Feb 20
Reserve online ASAP to snag a seat at the highly anticipated Birch & Rye.
Opening to much acclaim, we can't wait to taste the various healthy plates! 
Executive Chef/Owner Anya El-Wattar is a longtime San Franciscan who grew up in Russia. She previously cooked at Greens Restaurant, a classic San Francisco healthy favorite of ours. 
Anti-inflammatory, healthy beets are prominent on the opening Winter menu, from the Instagram-begging borscht to the beet salad, and even cultured beet butter (swoon). There's also a nourishing chicken soup, wood-fired roots and mushrooms, "siberian kale", black cod, and more to love. The buckwheat (eggs) nest and rye waffle top our brunch must-try list. Along with gut-friendly sauerkraut, of course…
Hello, healthy (or shall we say "Privet", healthy). 
Photo courtesy of Birch & Rye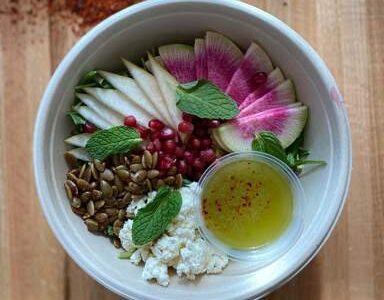 Palestinian-Inspired California Cuisine
Opened late August 2021
Chef/Owner Mona Leena Michael launched Lulu at a charming and cheerful corner near Berkeley's Gilman District.
Lulu's generous mezze brunch is shared family style with two or more and features specialty dips, spreads, crudites, and other deliciousness based on what's local and in-season. And of course, fresh-made daily breads and mana'eesh*. (Chef Mona Leena was known for her pandemic pop-up, "the Mana'eesh Lady")
While the beautiful brunch is all the rage, don't overlook midweek breakfast and lunch counter service. Vibrant salads are updated regularly per what's fresh and available.  Bonus: it's much less busy. (Psst.. they recently launched breakfast & lunch delivery for desk jockeys unable to tear away.) 
*Be forewarned: Lulu's bread program is ridiculously strong (delicious.. if not dangerous). Restraint may be required to taste – and not devour at once! We recommend doubling down on crudites and saving extra bread for later.  Your future self will thank you for the extra bites. 😉 
Photos courtesy of Lulu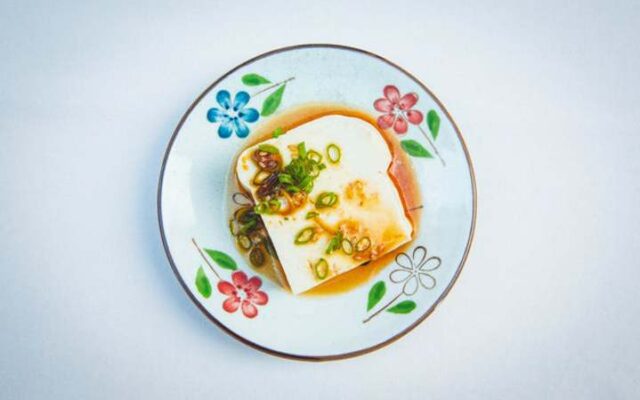 Korean deli with exquisite handmade artisan tofu & rotating banchan 
Opened January 2022
This neighborhood spot focuses on executing two things superbly.
The hyper-seasonal banchan rotate constantly and are made with local, sustainably-sourced vegetables. Banchan are tasty Korean side dishes meant to supplement any meal.
Organic soybeans, love, and time (~2 hours per batch) are the key ingredients for Joodooboo's delicate tofu (i.e. "dooboo"), painstakingly prepared by hand including specialty equipment shipped from Korea.
Limited pre-pay monthly subscriptions are available for scheduled weekly dooboo and/or banchan pickup. One subscription is enough for one person to enjoy across 2-3 meals. 
The deli is also open (often with long lines) for takeout daily until sold out. 
Photos courtesy of Joodooboo
Plant-forward, locally-sourced salads & bowls 
Opened September 2021, inside State Street Market
Peninsula residents seeking healthy in a pinch can hit up Grains & Greens for a good variety of bowls featuring fresh greens and seasonal veggies with choice of grain (brown rice, barley, or quinoa). All sourced from local farms. 
Our pick? The Bahn Mi bowl – with organic locally-made Hodu tofu plus pickled daikon and carrots – but there are several solid options. 
10-minute parking is available behind the market for quick curbside pickup.
P.S. Also coming to State Street any day now – we're excited for fresh Cal-Mexican healthy eats at El Alto. 
Photos courtesy of Greens & Grains/State Street Market
Plant-based casual restaurant + community gathering place 
Opening Early Spring 2022
Fans of former SHED in Healdsburg can hardly wait for the next evolution. And who better to shepherd it than local legends Kyle and Katina Connaughton (IE the Single Thread power couple). 
Little Saint will feature a casual 100% plant-based restaurant and cafe sourcing straight from its own hyper-local farm and forests. There will also be a wine shop featuring eco-conscious, under-represented winemakers, plus an art gallery and performance space to host local artists.
Think: beautiful healthy food, music to fill the air, art, community, and conversation in an uplifting gathering space. 
All the feels… It's exactly what we need right now, and I may have just SHED a tear.
Photo by Emma K. Morris courtesy of Little Saint
All-day Vegan food with a healthy Ethiopian twist
Opened September 2021
We love BERBERE's focus on nourishing whole foods – 100% plant-based. They pursue great taste and great nutrition at once. The health-focused Ethiopian concept is by lifestyle brand T&T which initially gained a following through LA's weekly Smorgasboard open-air food market. 
BERBERE Plant-based health-focused Ethiopian flavors by lifestyle brand T&T.
"Eat the rainbow" is a perfectly delicious way to get your healthy fix of phytonutrients and antioxidants. Their plant burger is house-made with wholesome real ingredients like squash, carrots, flaxseed, cabbage, etc. And the tacos are filled with lentils, potatoes, mushrooms, microgreens, and more.  (You won't find a single processed 'fake meat' on the menu – we need more like BERBERE, please!)  
Ingredients are sourced from local organic farms, and the injera's made in-house. Breakfast is equally delicious with adult and kid servings of black seed blueberry teff pancakes (gluten-free). 
Photos courtesy of BERBERE/T&T Lifestyle.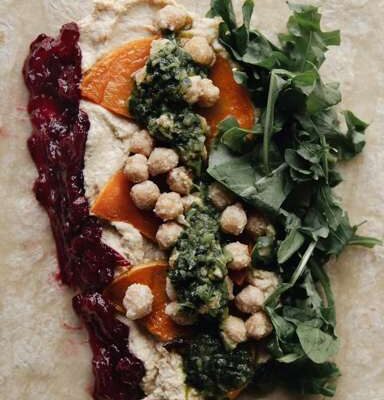 Organic Sourdough bakery & deli
Opened late January 2021
Rye Goods turns out small-batch daily goods using 100% organic ingredients like freshly-milled heritage flour, wild yeasts, and local produce.
While there's a tantalizing assortment of naturally-leavened breads and pastries — don't neglect the daily nourishing soup or deli fridge with ever-rotating seasonal delights.
The midday-Saturday lines outside the bakery are a testament to their passion for high-quality, delicious seasonal eating.
Rye Goods evolved out of a garage and has been growing since. They're planning a 2nd location in Tustin later this year. 
Photos courtesy of Rye Goods
David Tanis + Alice Waters collab celebrating all things seasonal, local, and regenerative 
Opened November 2021
Last but certainly not least of our top healthy and new California restaurants for 2022 includes LULU, inside the courtyard of Westwood's Hammer Museum. 
Wholesome delicious food promoting climate resilience is LULU's focus. The daily-changing menu's informed by small, local regenerative farms and regional markets. And the wine program focuses on female-owned, biodynamic operations. 
They're offering a pre-fixe lunch menu ($45) updated daily based on what's available.
The spirit of sustainability doesn't stop in the kitchen. From reclaimed wood tables and furniture to zero-waste policies – all are intended to set a remarkable example of what's possible. 
Photo courtesy of LULU/Hammer Museum
Just the "good" stuff, please
Want a sacred space including only hand-selected approved spots with delicious, healthy, sustainable eats… Curated with just what you want to know?
We've got you, and then some! 
Learn more about our standards or subscribe below to access our living, growing Collection.
We're live across the SF Bay Area (500+ beautiful, healthy recommended dishes) and expanding per demand. 
Our first 500 subscribers enjoy a discounted rate ($2.50 per month billed annually at $29.99) as a thanks for your early support!
Outside SF Bay Area?
Let us know where you want us and get notified when we're live near you. 
Discover the best healthy, sustainable, and delicious food near you. 
Healthy Anywhere
Conscious. Clean. Curated.™