This article is part of our Nutrition + Dining series. Here we explore holistic health topics and share favorite dishes from aligned restaurants.
22 healthy and new restaurants we're excited to try (or love already) part III
We're rounding out our three-part nationwide series celebrating all the brave and beautiful healthy restaurants that newly opened across the past year, with a few that pushed openings into 2022. 
We ultimately reviewed over 600 new restaurant openings across our readership locations — and closely evaluated menus, sourcing practices, health and nutrition, reviews, and critical acclaim — to find the optimal intersection of healthy, sustainable, and delicious.
We hand-selected the top 22 from the 5% that rose to the top.
Yes, that's 22 for 2022.
(Looking for Part I, featuring California? It's here.
Part II: Seattle, Denver, Houston, Chicago, Minneapolis – is here) 
Enjoy this 'taste' of healthy. In no particular order, grouped by location.  
Our top picks for healthy new restaurants, Michigan + East Coast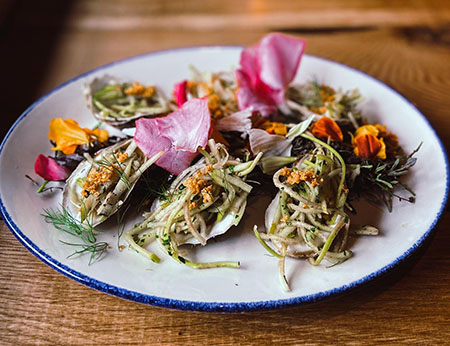 Hyper-local cuisine inside rebuilt 300-year-old barn
Opened June 2021
A husband/wife collaboration centered around farm, family, and live-fire cooking, Sylvan Table sources many ingredients for its New American cuisine straight from the surrounding grounds.
The 5-acre setting dedicates a full 3 acres to sustainable farming for over 100 different crop varieties including leafy greens, crunchy vegetables, herbs, legumes, beans, edible flowers, a planted fruit orchard, and more. It's all irrigated by an underground spring-fed well. And they have beehives and laying chickens. 
The restaurant itself is inside a reconstructed barn that features an open layout using warm woods, large windows, and industrial textiles for both a modern and cozy feel.
Check out what's being grown and harvested on the farm each month on their website. And don't forget to take home retail house-made sauces and pickled & preserved goods.  
Photos courtesy of Sylvan Table
Sustainable Sushi 
Opened September 2021
Sushi's typically a touchy subject for us, but this one's a no-brainer! Renowned Chef Hajime Sato, the trailblazing sustainable sushi Chef behind Seattle's Mashiko, is now devoted to sustainable sushi in Detroit.
Hajime's been making sushi in the US since 1994, and exclusively sustainable sushi since 2009.
Sozai prioritizes local farms and fisheries with an eye on traceability, fish populations, fishing methods, and farming practices. And Chef Hajime artfully deploys a variety of authentic and ancient Japanese preparations. 
A la carte dinner is available, but so are longer Omakase experiences (bar only) and special 3-4 hour Kappo dinners – if you reserve in advance. 
Photos courtesy of Sozai Sushi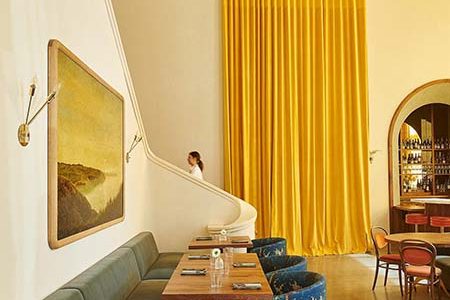 All-day cafe, market, and wine bar with stunning interior design
Opened November 2021
Le Bon Nosh (loosely translated: "the good bite") celebrates simple, ingredient-driven cooking and warm hospitality… all in one stunning space.
Female Chef/Owner Forough Vakili created Le Bon Nosh to facilitate a sense of community and to help guests crave wholesome healthy food, whether seated in the awe-inspiring space that is Le Bon Nosh or in the privacy of their own home. 
A stellar assortment of local and organic/sustainable family farms provide Le Bon Nosh with fresh vegetables and fruit, grass-fed beef, heritage pork, and organic pasture-raised chickens. 
Look for fresh herbs, French influence, and occasional Persian touches throughout the seasonally-inspired menus.  
Don't sleep on the Savory Power Bowl for breakfast, featuring nourishing bone broth, steel-cut oats, sautéed greens, heritage bacon, avocado, a soft-boiled egg, radish, and house fermented peppers.
Numerous veg-forward sides and salads are fun to share over lunch. The market also provides artisan cheeses, charcuterie, bread, and more.  
Photos courtesy of Le Bon Nosh
Traditional Lebanese-Mediterranean recipes with a modern twist
Opened October 2021
One of our NYC favorites has come to the Wharf in DC, bringing share-friendly mezza and mains inside a breathtaking space inspired by Lebanese courtyard gardens.  
Chef/Owner Philippe Massoud crafts a blend of Lebanese, Levantine, and Mediterranean-inspired cuisine using fresh clean ingredients and flavorful herbs and spices.
Philippe continues a three-generations legacy of hospitality within the Massoud family, hailing from Beirut. He remains resolute in properly introducing guests to Lebanese-Mediterannean food (so long, store-bought hummus!).
Enjoy veg-forward mezza like kabis (pickled turnips) and fattoush, and mains like Whole Organic chicken, wild rockfish, and day boat scallops. Sunday brunch is also available.
Photos courtesy of Ilili DC
Plant-based culinary art meets nutrition
Opened July 2021
100% plant-based fine dining with cooked and raw vegan options. by Matthew Kenney
LIORA (Hebrew for "light") is an apt name for this health-forward destination, filled with natural light and located on Light Street in Baltimore's Inner Harbor.  
Of the many Matthew Kenney spots, this marks one of our favorites, with healthful preparations and whole-food plant-based dishes artfully prepared.
LIORA presents a beautiful selection of locally sourced fare on the seasonal menus, alongside a beverage program featuring organic and biodynamic wines.
Photos courtesy of LIORA
A creative neighborhood restaurant
Opened March 2022
There's something for everyone at this Rittenhouse spot with ambitions to be "wildly" creative. 
Creativity is infused into all you see, from the menus to the murals on the wall and more.
There's local seafood, with crudos and a raw bar, grass-fed beef and heritage pork, pizzas, and a selection of handcrafted pastas.
We're particularly fond of the small but remarkable salads and vegetables section – you'll need one of each! Peak-season veggies also show up on several mains.
Definitely "veg-up" and pick your indulgences here! And do check out their selection of all-day Zero proof cocktails.
Photos courtesy of Wilder
Living salad concept with fresh-snipped greens 
Opened November 2021
Watch your salad grow inside climate-controlled cabinets at this healthy stop in Columbia's Manhattanville Market.
The Botanist's fresh take on salad involves onsite "farm shelves" growing clean leafy greens and specialty herbs that are mixed with fresh seasonal vegetables. Organic is a priority.
The seed-to-plate, veg-forward vision was conjured and executed by Chef Franklin Becker.
If you're in the neighborhood, don't miss this quick stop for a reliably fresh and healthy lunch or dinner. Try adding Organic Tempeh, a gut-friendly power protein, to any salad that sounds good to you – there are at least 6 options available and you can make your own.
Photos courtesy of The Botanist
A proxy for delicious healthy meals year-round
We seek out where to get the best meals that are not only delicious – but also healthy and sustainable. (so you don't have to)
We're all about nourishing your body, Earth, and soul. 
If you want access to the links above and beautiful healthy inspiration at your fingertips, look no further than our fully-curated living Collection. 
We're live in SF Bay Area and expanding per subscriber demand. 
Our first 500 subscribers enjoy a discounted annual rate ($29.99) as thanks for your early support!
Outside SF Bay Area or not ready to join?
Let us know where you want us and get notified when we're live near you. 
Discover the best healthy, sustainable, and delicious food near you. 
Healthy Anywhere
Conscious. Clean. Curated.™