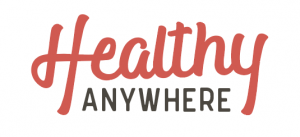 Working from home, powered by Kale
I've been on and off the road lately. The times at home are intense, heads-down power days and nights – getting all the work 'done' before the next adventure out into the world. 
And if I'm going to live Healthy Anywhere, I darn sure better be healthy at home!
It's lovely working from home – each day I tear myself away from the desk for a brisk walk/run outside, or on occasion a quick outdoor bike ride – though less often than preferred. 
I enjoy making time to cook, and recently adapted the below Kale chips recipe. 
Upon examining my daily nutrient intake, I found that despite a 'super healthy' diet, I was falling short on B Vitamins and also iron, calcium, magnesium and potassium. This recipe hits on all these now former gaps! And bonus that Kale is loaded with Vitamin C. The coconut oil (healthy fat) and nutritional yeast (loaded with B Vitamins!) round out this nutrient-dense powerhouse snack that has tied me over and through many an afternoon. 
I use a fairly low temp, 225 F. While it is ideal to use a dehydrator at a lower temperature for longer, I don't have that sort of patience these days. This is just right for right now! 
Another confession: it can be a challenge to eat these mindfully – getting in all 40 chews per bite. I'll admit I have been known to stuff a handful in my mouth at once.. they are addictive. And be sure to have water handy. (this bowl will surely be gone before I finish this post)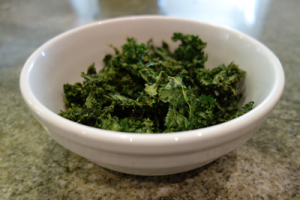 I can easily go through one bunch of organic Kale per day with this recipe. See if you can last any longer..
 Ingredients:
     1 small head Dino or Curly Kale, de-stemmed, washed, rinsed and cut into palm-sized pieces
     1 TBSP Coconut oil (may substitute Olive Oil)
     1.5 TBSP Nutritional Yeast
     1/4 tsp Curry powder (optional, experiment with garlic powder &/or paprika)
     1/8 tsp – 1/4 tsp Salt
     Shallow roasting pan, lined with parchment paper
Instructions:
     1. Preheat oven to 225 degrees F (200 degrees if convection oven).
     2. Carefully dry the kale, removing any moisture.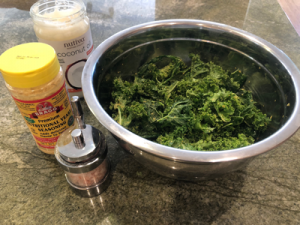 3. Place kale in a large bowl and evenly distribute the oil across the kale by massaging with clean hands.
     4. Add Nutritional Yeast, salt, and any optional spices. Toss with hands.
     5. On roasting pan: Place kale pieces in one layer. Take care not to pile pieces on top of each other.
     6. Place into oven. After 15 minutes, turn the pan arond gently stir/shift around the pieces with a spatula or similar (always wear heat protection!), to assure even cooking. Cook for an additional 10 min. Remove when kale is uniformly crispy, potentially up to 5 minutes more. Watch closely and be careful not to overcook, or the pieces will burn!
     7. Allow to cool. Place into a bowl and serve. Store leftovers in an airtight container at room temperature for up to 2-3 days (i.e. if they can last past one night!)
Enjoy!
Healthy Anywhere helps executive travelers enjoy delicious, organic foods, and stay healthy, anywhere in the U.S. Our services include: travel nutrition and meal planning, food delivery, fitness support, and accountability. If you or someone you know would appreciate this level of support, get in touch to work with us.
If you haven't already, join our Healthy Anywhere community to receive blog digests, exclusive email updates, and distinct deals personalized to your home and travel cities. Let us bring you the best, so you can be your best.
Eat Clean + Breathe Deep + Move Often = Never Settle™