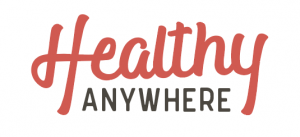 Quick healthy tips to stay nourished whether you're under the weather or under pressure. 
These easy, healthy dishes come together in a pinch – no-nonsense. 
(Move over, sourdough.)
I don't know about you, but I've had to sit out on this whole 'sourdough starter' / homesteading-quarantine thing. 
While bandwidth has been a challenge, I've also been under the weather – presumed COVID positive starting mid-March and slowly getting better after an odd cornucopia of post-viral symptoms. 
Needless to say, nutrition's been a focus, and I've been eating super clean in quarantine!
Thankfully after working from home for well over a year, I'm accustomed to tossing together very quick and healthy meals in a pinch.  
Here's how I made it through the worst and beyond while keeping nourished. 
As always, please discuss with your physician before making any changes to your diet or lifestyle. The below is not intended to be medical advice. 
1) A gentle, electrolyte mix 
A small scoop of powder mixed into water. DONE. 
In the thick of illness, a gentle electrolyte mix can help you stay properly hydrated. Hydration is so important when you're sick. And this includes more than just water. Electrolyte balance (potassium/salt) is also key. 
There were several days when I couldn't eat – I was so nauseous, dizzy, and disoriented. I could barely choke down chicken broth. This was the absolute worst of it. During these days, I drank an electrolyte mix by Skratch Labs – something I'd normally take on long bike rides. I found this easier to stomach than broth. It was a lifeline.
2) Broth. Never-ending Chicken Broth, sometimes Vegetable Broth, sometimes both.
Heat in a saucepan until it simmers. Pour into a mug, add a little mineral salt to taste and sip when cooled to taste. DONE. 
Every day for months now I've had broth – usually in a coffee mug, with meals and also in-between. It's hydrating, comforting, and goes down easy. A proper bone broth made from organic pastured chickens has nourishing amino acids and minerals. Great to soothe your throat and your gut. 
I'd often buy frozen bone broth from a local butcher shop, but recently I've been buying whatever boxed version of organic chicken broth or stock I can get delivered. It's just easier to open the box and pour – no need to thaw. Higher protein and
low-sodium
is preferred – I like adding my own mineral salt to taste.
(Do watch the sodium content, some broths are loaded with it!) 
3) Rice. In a rice cooker, of course! 
Top a scoop of rice with extra virgin olive oil and mineral salt. Add a mug of broth on the side. Golden. 
BETTER: Add raw or cooked greens like mixed salad greens or spinach.
Even better: Add a spoonful of hummus, walnuts, kimchi, a dash of liquid aminos. Delicious. 
Even more: Add quick-pickled cabbage (below) 
Even more: Add an over-easy egg.
We always have organic brown rice at-the-ready in a small rice cooker. It's too easy, and the cooker keeps it warm and usable for up to 2 days.  
In a pinch, I'll serve canned sardines in oil over rice and greens. (or canned wild salmon) Or any of a number of variations involving rice, greens, and nuts or beans. The combinations are endless. I'd also pour broth over rice at times when I was ill and wanted more sustenance. 
4. "Quick-pickled Cabbage." Chop, Drop, Done.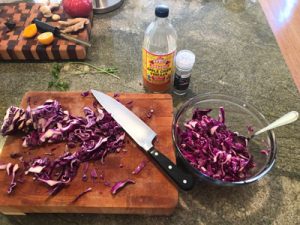 I picked this one back up after regaining energy to wash and chop vegetables. It's from Amy Chaplin's cookbook, at home in the whole food kitchen (2014), which incidentally has plenty of not-so-quick healthy recipes. This one jumped out at me as a quick way to get great healthy antioxidants from bright red/purple cabbage. (Varied vibrant colors are ideal in a healthy meal!) 
I don't necessarily follow prescribed recipe proportions and just 'wing it' – chop cabbage into a glass bowl, add a couple small spoons of apple cider vinegar (ACV), sprinkle Himalayan mineral salt (say 1/4 tsp), mix, massage by hand until soft, and DONE. It gets even better over the next day or so. Store covered in the fridge. 
BONUS: Reserve raw cabbage to saute with the greens below. I typically use 1/4-1/3 cabbage at a time and put the rest back in the fridge.
5. Sauteed greens A nightly staple. 
Over medium / medium-low heat. I always saute onions first, in 1+ TBSP avocado oil or similar. Lately, I've been using coconut oil plus a few spoonfuls of chicken broth.
Once onions are translucent, I'll add one or more of whatever dark leafy greens happen to be on hand – chard (nutritious stems go in first), collard greens, kale, spinach, bok choy, turnip greens, etc. I'll even use spring mix on occasion. With heartier greens like collards, kale, and chard, I'll add a dash of ACV and a little more chicken broth or water. Otherwise, a squeeze of lemon adds a bit of vibrance. 
Stir and saute until preferred color and consistency. You can briefly cover, but be sure to check after a few minutes. I prefer a vibrant green. If you cook too long, they'll become darker and dull (which some prefer). 
Options to mix it up: Top with minced raw garlic or add garlic while cooking. Fine-grated ginger is a wonderful anti-inflammatory addition while cooking. Or, add crushed red pepper for some heat. 
BONUS: Sprinkle ground mustard seed atop cooked cruciferous greens (e.g. kale, turnips, collards, brussels sprouts, broccoli, cauliflower) to enhance healthy, anti-cancer properties. Read more about that HERE, under 'cruciferous vegetables'. 
Here's a recent dinner – sauteed greens, pickled cabbage, rice. Added some wild Alaskan salmon (canned). It was thrown together in well under 30 minutes. And yes, I had a cup of broth too!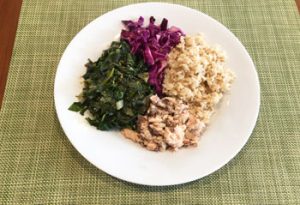 6. A Soothing Smoothie In a pinch 
When I have a sore throat, I'll alternate between a cooling smoothie and a warming cup of broth. I'll even alternate sips on occasion (yes, both – at once!).
All you need for a quick and cool, satisfying smoothie are leafy greens, frozen fruit, a small amount of plain yogurt or similar fat like avocado, an optional scoop of protein powder, fresh-ground flaxseed or chia seeds, and your favorite (non-dairy) milk. (and of course a blender!) 
I tend to use spinach, whole plain yogurt (coconut yogurt for non-dairy), frozen blueberries or berry mix, organic grass-fed whey protein powder (chocolate), chia or ground flax, and unsweetened almond milk.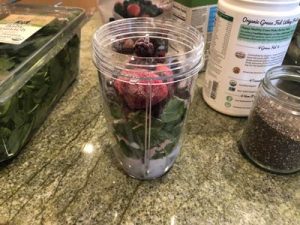 I'll confess the organic supermarket spinach in this smoothie is not my preferred biodynamic spinach from the farmer's market.
We're working to wean ourselves off Amazon/Whole Foods pandemic-reliance with a new garden in progress, while investigating local farm-to-door options.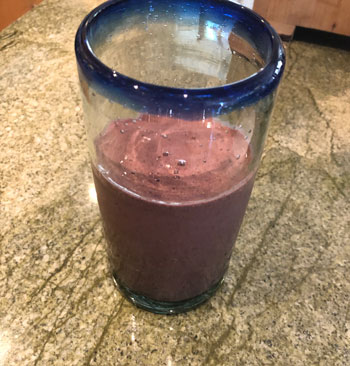 They say necessity is the mother of invention. Recent events surely have spurred new resourcefulness. Do you have a favorite quick & healthy go-to, old or new? Tell us in the comments below. 
And of course… you could always order the best of what's healthy around you for pick-up or delivery. Exciting updates on this front from Healthy Anywhere, coming soon! 
We help people everywhere eat and live 'healthy anywhere'. Through diligent research, nutrition science, and data science, we connect individuals to delicious organic foods and healthy habits – at home and on the road.  
Eat Clean + Breathe Deep + Move Often = Never Settle™