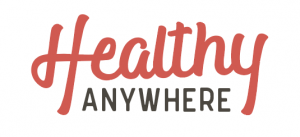 Having spent my youth in the Deep South, I look forward each New Year to enjoying black-eyed peas, collard greens and cornbread. While a long-standing ritual intended for good luck and prosperity (the greens representing money, alongside the 'golden' cornbread), the combination is simply delicious when done right. Each year I wonder why we don't eat this more often! 
Below is the way I do it, taking care to first near caramelize the onion and garlic and then add tomato, plus good heat from red peppers and cayenne pepper. BPA-free canned Organic black-eyed peas and diced tomatoes are used to shorten the time and reduce complexity (no need to soak peas, boil and skim foam while cooking, etc) 
You can get a high-quality ham hock from your local butcher (e.g. from an organic heritage pig). All ingredients are organic and sourced as locally as possible, of course! 
The longer it sits, the more flavorful it becomes. Mix together and enjoy with organic cornbread. Top with an over-easy pastured egg for an amazing and auspicious breakfast.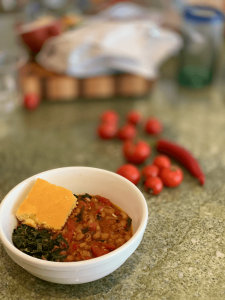 Ingredients: 
Up to 2 TBSP avocado oil (we prefer avocado oil to withstand the heat. Can use olive oil with medium-low temp, or pastured bacon grease for a more traditional version)
Optional ham hock (1.25 lbs, we prefer smoked)
1 large red onion, chopped
up to 4 garlic cloves, minced. 
2 red peppers: seeded, deveined, and diced
3-5 kombu strips, 4" long, snipped into small pieces
2 28 oz can diced tomatoes, quickly drained  
2-3 15 oz cans black-eyed peas, no salt added
14 oz organic pastured chicken stock (from butcher shop or homemade) 
1 Bay leaf
1/4 – 1/2 tsp Cayenne pepper
Black Pepper to taste
Touch of salt (prefer pink Himalayan) 
1-2 TBSP avocado oil or refined coconut oil (refined oil withstands moderate heat) 
1-2 medium garlic cloves, minced. 
Up to 2 heads of collards
Up to 1 c water and/or chicken broth (preferably from butcher or homemade)
1 TBSP apple cider vinegar
Up to 2 tsp Red pepper flakes
Optional: reserved ham hock meat, once cooked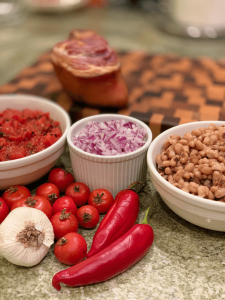 Black-eyed peas Instructions: 
Using a dutch oven or large deep saucepan, heat oil briefly, then sauté onion with a touch of salt over medium heat. Stir frequently 6-8 min to sweat and near caramelize. 
Add peppers and garlic. Stir a couple minutes.
Add tomatoes and cayenne pepper. 
Stir and sauté 5-6 min.
Add black-eyed peas, chicken stock, optional ham hock, kombu, bay leaf and a touch of fresh ground black pepper. Stir. 
Bring to simmer, turn to low/simmer and cover. Simmer for up to 2-3 hours. Stir occasionally.
Once peas have simmered up to 3 hours, carefully remove the ham hock, remove and dice choice meat. Add meat into the stew, and reserve meat to add to Collards. 
Collards Prep:
While simmering black-eyed peas, strip, wash and dry collards.
Stack collard leaves horizontally on cutting board up to 2" high and roll as you would a cigar. The result somewhat resembles the shape of a cucumber. Hold this and slice into 1/2" strips as you would a cucumber. Feel free to make a final horizontal cut through the middle of the strips. Set aside until ready to cook, 30 min prior to serving. 
Cooking collards, 30 min before serving: 
In a separate deep skillet, add 1TBSP grease or oil. 
Heat briefly over medium heat, then add 1 clove of garlic, minced. Stir. 
Add collard greens a couple handfuls at a time and stir. Add more as they start to soften until all are in the skillet.
Add apple cider vinegar and then 1 – 2 tsp red pepper flakes, depending on preference. Stir. 
Add up to 1 c water or chicken broth, plus diced ham hock as desied. Stir. Simmer on low and cover for up to 20 minutes. Stir occasionally after 10 min and check for desired texture. Remove lid to simmer off excess liquid if needed. 
We prefer to serve in a bowl or large ramekin. Place serving of collard greens on bottom, then ladle on black eyed peas and serve with a piece of organic cornbread.
Enjoy, and all the best to you and yours this New Year!
Healthy Anywhere helps executive travelers enjoy delicious, organic foods, and stay healthy, anywhere in the U.S. Our services include: travel nutrition and meal planning, food delivery, fitness support, and accountability. If you or someone you know would appreciate this level of support, get in touch to work with us.
If you haven't already, join our Healthy Anywhere community to receive blog digests, exclusive email updates, and distinct deals personalized to your home and travel cities. Let us bring you the best, so you can be your best.
Eat Clean + Breathe Deep + Move Often = Never Settle™