How we evaluate menus to find the best food that's healthy, delicious, and sustainable. 
When deciding what or where to eat, many of us scope the menu first.
After analyzing hundreds of menus over the past few months, we've noticed sometimes what's on a menu – and not on a menu – can speak volumes. 
Here are three key considerations to keep in mind for your next menu review. 
Sourcing is one of those details you don't always see on menus. But when you do – and when you can verify local producers are involved – it's a great sign you're on the right track! 
Sourcing significantly impacts the quality of fresh ingredients like produce. Produce that's local and close to the source is fresher, has a higher nutrient content, and simply tastes better!
So yes, look for that salad that's as close to fresh-picked as possible!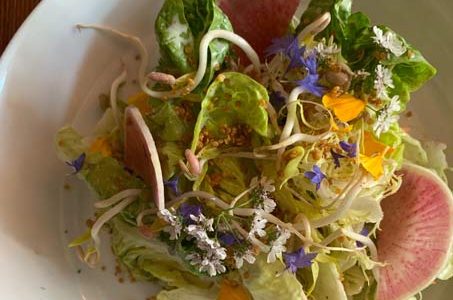 And knowing the farming and production practices of the sources are important. Where sourcing practices aren't clear, we ask. e.g. Is everything produced by organic or biodynamic practices? Is the restaurant minimally sourcing the 'dirty dozen' produce ingredients per organic or biodynamic practices?
Having the assurance of knowing that herbicides, pesticides, and fungicides were not applied to the food you're eating is important. As Matthew Guelke of The Plant Cafe Organic, a 100% organic cafe in San Francisco says, "It's just as important to know what's NOT in your food as it is to know what's in your food.."
"It's just as important to know what's NOT in your food as it is to know what's in your food"

— Matthew Guelke, co-owner of The Plant Cafe Organic, San Francisco, CA
Which leads to the next factor…
When it comes to ingredients, consider the 'healthfulness' of dishes, IE nutrient-density and anti-inflammatory properties. 
Healthy vegetables and at least one good fish option are preferred. Personally, I steer away from other meats unless they're organic and exclusively pasture-raised, per biodynamic or regenerative practices.
Darker green and vivid colors (reds, purples, oranges) are best when seeking a healthy variety of leafy and crunchy vegetables.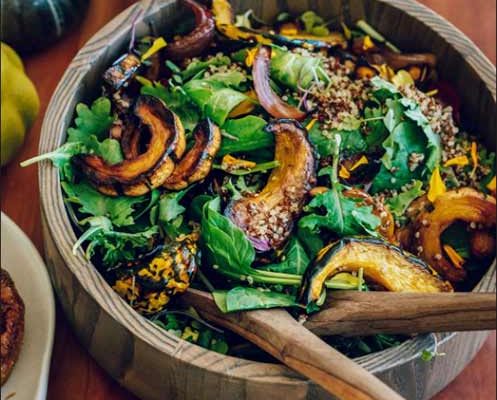 Selecting a healthy fish can be a fishy business. Wild Alaskan salmon or king salmon are go-tos. Absent these, we consult Monterey Bay Aquarium's best practices for sustainability and research the potential for mercury or other contaminants. The latter is usually based on size, so 'small and wild' tends to yield less contamination, so long as the fishing method is sustainable.  
Did you know? Fishy business…Not all seafood's so 'healthy'?!

We look at tradeoffs between optimal omega-3 levels, lower mercury & contaminants, and sustainability of fishing practies. 

And as our oceans change, everything's in flux. Today's sustainable fish may not be sustainable in a year or two.  And sometimes farmed seafood is actually preferred to wild seafood (as in the case of oysters and other bi-valves!)  
Beyond these core ingredients, pay attention to the quality of oils and spices used. Notice how higher-quality core ingredients demand simplicity, with fewer other ingredients required to shine. 
Which brings us to our 3rd and final consideration…
When considering preparation, you might start with the basics: Are any dishes steamed, poached, grilled, etc? Are they smothered in heavy sauces or heavily oiled or salted?   
Beyond that, balance is a biggie!
Are dishes meat-focused or plant-forward? Is there nutritional balance in the dishes or amongst what you might put together? Is there a good variety and appeal of colors, textures, flavors, and nutrition? 
And if you choose a more indulgent main dish, are there ample healthy small plates or vegetable sides? 
Don't forget – if portion sizes are generous, leftovers are your friend! Stash half or more as needed to enjoy over a few meals. 
Don't forget those who need you now
Be sure to patronize the wonderful healthy, sustainable, and delicious places near you.
While delivery has dominated, please know it's not the preference of the small local businesses who need your support more than ever. 
Order large, tip well, and opt for takeout as much as possible (or dine on premise, where allowed and safe). 
We're bringing together the best healthy eats near you.
You'd be hard-pressed to find anyone asking all the questions we do. We do all that digging, so you don't have to! 
Our web app features the best places offering healthy, sustainable, and delicious food. If you're not already in our community, get on the waitlist to know when we launch in your favorite cities!
Discover the best healthy, sustainable, and delicious food near you. 
Healthy Anywhere
Conscious. Clean. Curated.™