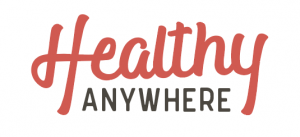 A rally cry to mobilize and stand together in solidarity. To apply the lessons learned from other countries and act ASAP to protect our healthcare workers, our healthcare system, and our most vulnerable. 
COVID-19 is a new reality some are grappling with. For others, it's been a looming giant hurricane, clearly visible by satellite and steadily building, ever-more predictably approaching, with an occasional sudden change in course.
And now it's made 'landfall' in the U.S., especially in areas like Seattle, New York, and California. The storm is picking up speed, and increasingly building and presenting throughout the U.S.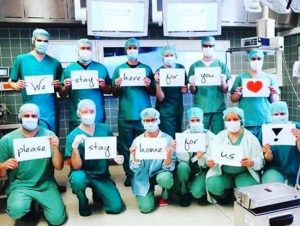 3 words: "Please stay home." 
Why personal responsibility and abundance of caution with respect to COVID-19 is a must. 
1. We're learning as we go. Better to be safe now than sorry later. 
This is an incredibly-rapid evolving situation.
While we have the 'luxury' of witnessing the successes, missteps, and misfortunes of the countries that have gone before us – make no mistake, this is moving so incredibly fast, with various data analyses and reporting in real-time. We're surprised by new, unexpected discoveries and twists and turns along the way.
Things experts previously didn't suspect can start to emerge.
For example, asymptomatic spread emerged as a mounting concern, after it was significantly observed on the Diamond Princess cruise ship, and again in Italy.1
(Asymptomatic, meaning there were no

symptoms

when the COVID-19 test was run, yet the test result was positive for COVID-19.)
Seattle also reported unexpected groups of
healthy adults testing positive for COVID-19 with

no

symptoms.
2
There are looming questions around what could truly be "asymptomatic" (they never had or developed symptoms) vs "pre-symptomatic" (they tested positive and developed symptoms after) vs "post-symptomatic (they tested positive after mild symptoms had resolved). But the key takeaway seems to be that ANYONE can unknowingly spread the virus, not to mention it may be possible to spread the virus for a while, even after recovery. (virus spread by those recovered from the virus is under investigation, along with all else)
We're not 100% clear on the timeframe of incubation, i.e. when you'd test positive after virus exposure. Theoretically, you could take a test right after exposure and test negative, but two days later you could test positive.3  
There's the pesky question around how long does it linger on surfaces or in the air, the answers to which evolve over time.
There's also an indication that hypertension may play a role in someone being at high risk of severe illness and death with COVID-19, as reportedly 75% of the victims that died in Italy with medical conditions all had one condition in common… Hypertension. Yes, hypertension. Know anyone with that? Please be careful around them and give them ample space. (this topic requires additional investigation)3 
And we're learning the previously "low risk" group of 20 – 49-year-olds is clearly not at "no risk" for severe illness, as a percentage of these are being hospitalized in the U.S.  
In short: Too many unknowns to mess around with COVID-19.
2. The severity of illness in 1/5 of cases. 
While we're continually told the vast majority of cases (~80%)1 involve mild to moderate symptoms, what about that 20% that don't?
Well, we know what that looks like, and it's ugly. Hospitalization. Severe Pneumonia, Respiratory Failure, and Acute Respiratory Distress. Potential rapid deterioration to death.2 Admittance to the ICU with patients requiring ventilators.
They need machines to breathe for them. For extended periods of time. 
And when you have these cases mounting, you constantly need access to new ventilators. But hospitals don't have stashes of ventilators.
Hence the crisis. With ventilators, these patients have a fighting chance. Without them, they don't. 
You can take a look online at pictures or videos of the patients in Italy lying motionless on their stomachs connected to ventilators, sometimes for weeks. It's horrific.
You wouldn't want to cause someone to need a machine to breathe for them, would you?
And you wouldn't want to contribute to an ICU-overrun that prevents patients from getting the life-saving ventilators and treatment they need?
'Nuff said.
Nevermind the healthcare workers who constantly put themselves in harm's way on the front lines. They're concerned about running out protective equipment like masks, in addition to supplies and ventilators.
The more people are out in contact with each other = the more transmission = the more cases and the more critical cases that increasingly flood our ERs and ICUs. 
Please stay home as much as possible, especially away from adults aged 60+ or anyone with medical conditions like hypertension, asthma, COPD, etc, or compromised immune systems – until we have better guidance and protocols to follow. (which surely will emerge given the constantly evolving scenario) 
**Please note the intent here is NOT to spark fear or panic but to iterate the importance of protecting the ones we love, and the ones on the front lines of the pandemic, and the vulnerable – especially amidst the changing environment**
For all intents and purposes, if you're healthy, or if you feel like you have a cold, or if you feel slightly "off", or if you once had a cold or felt off, etc…
I.E.
 

If you're

alive

: Assume you have the virus and assume that you will give the virus to everyone whose path you cross.

 

This is why we must. stay. home.
3) Lastly, our public officials would wait until the last possible moment to pull the ripcord and enforce more restrictive measures. This is America, after all. We're used to our freedom, and the government is mindful of this. What we've experienced is a gradual turning of the dial. They're currently depending on our voluntary compliance.
And when you listen to the plea of our European brothers and sisters begging us to 'shut it down' ASAP, and you read the reports about the dramatic differences in containing populations earlier vs later, you instantly appreciate why this is our duty.
We have the chance to participate in this great war – that's been waged around the world and is at our doorstep. This chance is fleeting – the time is right now. Please take personal responsibility ahead of any government requests – because it's the right thing to do. 
Remember the "Victory Gardens" of World War II? Americans were encouraged to plant their own vegetables for self-reliance so that sufficient food could go to the troops.
I see this as our "Victory Garden".
Let's band together to hammer the heck out of that curve. Please. Before it's too late. 
Stay safe, stay healthy (…anywhere – including in quarantine!) 
Leigh
PS The articles to follow will cover healthy eating and healthy balance during this time, how to stay sane, how we can be isolated yet never alone, and more. If you're not already subscribed, subscribe below for digests when new articles are posted.
PPS the current 'shelter-in-place' guidelines in the SF Bay Area are to stay home unless you need to get food, medical support/supplies, or exercise. And to use social distancing when exercising or seeking provisions. Grocery and drug stores are open. Restaurant delivery or take-out is also available. It's doable and more than worth it given the consequence. 
Our aim is to help people everywhere eat and live 'healthy anywhere'. Through diligent research and data science, we connect travelers and diners to delicious organic foods and healthy habits.  
Eat Clean + Breathe Deep + Move Often = Never Settle™