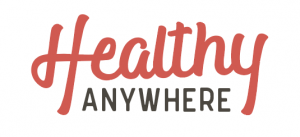 The one thing business travelers must remember upon clearing security with time to spare.
A brazen proposition for business travelers. 
The next time you pass through airport security with time to spare, I want you to think: "laps over lounge".. And what on earth do I mean? 
Take a lap! Laps over Lounge. 
So many business travelers I know make a beeline to their airline's airport lounge as if their life depended on it. (I would never mention names, but you know who you are!) It is as if bearing any more moments amongst the mortals and common folk would be too much. After all, there might be a comfortable chair, plus some dried out carrot sticks, soup, and trail mix to go with that free alcohol…
But stop and think about this with me. 
You've likely been sitting most all day in meetings. Maybe you were lucky to get in a workout (nice work if so!), but even then, you have solid sedentary hours coming your way with the plane plus transit to your destination. You can talk and walk for that phone call you need to make. It would be in your best interest (your waist included) to get in more steps and movement. Here is one key chance to "Move Often" as we say: Eat Clean, Breathe Deep, Move Often, Never Settle!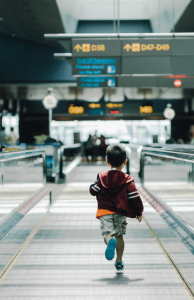 We have a few suggestions to help turn you into a lover of 'laps over lounge'.  
1) Priority packing: Ensure you have sneakers or comfortable walking shoes easily accessible in one of your carry-ons. Assuming you are not already wearing comfortable walking shoes, that is. The last thing you want is to be fumbling around with a suitcase in a bathroom or exposing the contents of your carry-on to the world. 
2) Safer shoulders: Notice if you tend to carry a bag or purse on one shoulder. It would be best to instead rest this on top of your suitcase and roll or pull the suitcase around. A backpack is a decent option, although I typically place my backpack atop the suitcase anyway, for comfort. And remember… when worn, a backpack is made to be on both(!) shoulders at once. Your neck, shoulders, and back will thank you. If you have no backpack and no rollaboard suitcase on which to stack your bag, I recommend wearing it messenger style or simply carrying it in one hand. 
3) Even it out: Remember to occasionally swap the arm you use to pull or roll your suitcase – or the hand you use to hold and carry a bag. If you tend to use your right arm, try starting out with your left. Depending on the heft of your belongings, you can build some serious functional strength here. 
4) Push your Pace. Walk as briskly and safely as possible. If you have time, walk between terminals. At times the airports can be tight with space to move; but even in the tightest situations, we have been able to find a hall or area that is less crowded and more conducive to cruising. International terminals in particular may be less crowded, and coincidentally, they tend to offer the best food options. Not all terminals are connected inside security, but either way, a less-crowded space awaits your brisk steps. 
5) Catch, don't curse, the Carpet. Some airports have tiled halls with little to no rolling resistance. These areas are great for pushing your pace with a brisk walk. If and when you hit a carpeted area, this can slow you down. The carpet is your friend in this instance. Think of it as your own personal strength trainer pushing and encouraging you and helping to tone your arms and core. You may need to swap sides more often, especially with heavier bags.  
6) Go for time. Once you have established a 'lap', time yourself and see if you can meet or beat your time on subsequent laps. 
7) But always mind the time. It could be easy to get carried away in this favorite new pastime, but do be mindful of when you need to be at your gates for departure! Set an alarm to be sure you head back in time. 
Remember: Laps over Lounge.
The next time you find yourself stuck in an airport or with ample time to spare, take a lap! You can always hit the lounge later.
Healthy Anywhere helps executive travelers enjoy delicious, organic foods, and stay healthy, anywhere in the U.S. Our healthy concierge services include: travel nutrition and meal planning, food delivery, fitness support, and accountability. If you or someone you know would appreciate this level of support, get in touch to work with us.
If you haven't already, join our Healthy Anywhere community to receive blog digests, exclusive email updates, and distinct deals personalized to your home and travel cities. Let us bring you the best, so you can be your best.
Eat Clean + Breathe Deep + Move Often = Never Settle™