This article is part of our Nutrition + Dining series. Here we explore holistic health topics and share favorite dishes from aligned restaurants.
Soothing soups for the soul
Beat the cold winter blues with a few of our favorite nourishing soups from menus across the country. 
Our criteria? It's gotta be delicious and healthy.. and thoughtfully/sustainably sourced. Ideally offering good variety in seasonal bounty and nutrition. 
We evaluate "healthy" for body, earth, and soul. As we're building out our network of the best healthy, sustainable, and delicious food sources, we couldn't help but notice these sensational soups on menus right now. Enjoy this 'taste' of healthy. 
Roasted butternut squash and apple (Gather: Berkeley, CA)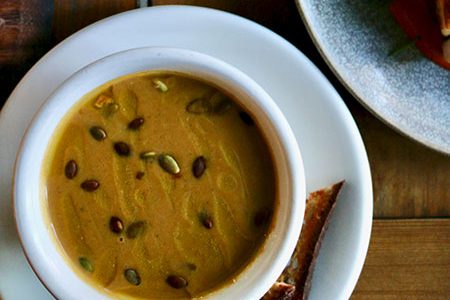 What makes this soup spectacular? Per Executive Chef Jessica Whiteman, "selecting the best seasonal produce at the perfect peak time is key".
They selected hyperlocal squash from Hummingbird Farm in San Francisco and apples from Cuyama Orchards near Mariposa, CA. (All organic.) Also in the soup are coconut milk, warming spices, and ginger. Topped with sage oil and pepitas and served with Acme bread, a beloved Berkeley favorite. Vegan & dairy-free. 
Golden Bone Broth (Vibrant: Houston, TX)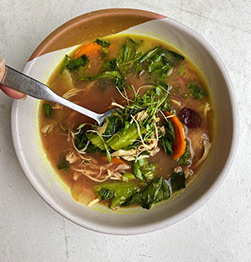 One soul-warming aspect of this soup is the social connection and community benefit. The bok choy and vegetables are sourced from "Plant it Forward", a Houston non-profit that helps refugees operate their own small sustainable urban farms.
We love the combination of a nourishing broth base plus seasonal winter greens and vegetables. Vibrant combines vegetables like bok choy and carrots with their housemade chicken bone broth and anti-inflammatory and warming ginger and turmeric. Also included is roasted pastured chicken from local Three Sisters Farms. 
Winter squash soup or 72-hour bone broth (Zeal: Boulder, CO)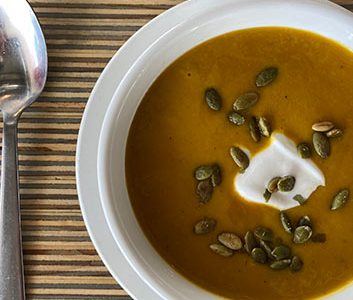 Not one, but two healthy soup options for Boulderites, per preference.  
The squash for this soup comes from nearby Red Wagon Farm, a sustainable Boulder farm with a keen eye on varietals and taste. And the locally-sourced grass-fed bone broth is long-simmered for 72-hours to extract maximum nutrients for bone broth enthusiasts. 
Bonus: there's also a newly added Thom Kha soup, which can be made vegetarian or with chicken. 
Kabocha squash soup (Botanica: Los Angeles, CA)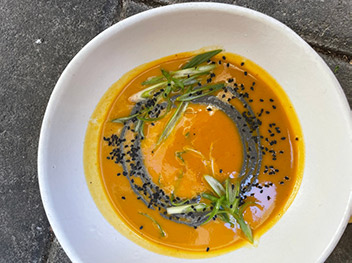 Botanica has a penchant for making healthy delicious, and this soup is no exception. 
With local kabocha squash, leeks, morita chiles, black tahini, and scallions, Botanica brings a uniquely savory and smoky spin to this winter squash soup.  
Too many soups to count (Three Stone Hearth: Berkeley + Bay Area, CA)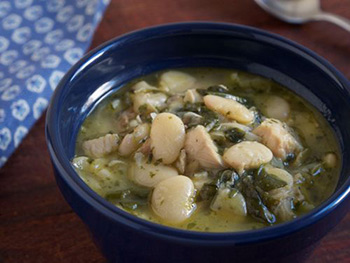 The biggest variety of nutrient-dense soups arguably is found at Three Stone Hearth in Berkeley, CA. (we dare you to find more!)  While the menu is informed by local produce and nutrient-dense animal products, per Weston A. Price Foundation principles, there are typically Vegan selections. 
A recent menu included:  
Pastured organic chicken and lima bean minestrone
Curried lentil soup with coconut milk (Vegan)
Cream of greens (Vegan)
At least four more soups, each featuring a bone broth base with vegetables and occasional pastured meats. 
Six versions of nourishing broths – including 2 Vegan – for standalone sipping or use in cooking.
Pickup and/or delivery in Berkeley/SF/Marin. Other Bay Area locations may order online through "Real Food Bay Area CSA". 
Our web app includes even more info at-a-glance to help busy, health-conscious eaters make the best food choices – including only the best places, like those you see here.
If you haven't already, sign up to know when we launch in your favorite cities.
Discover the best healthy, sustainable, and delicious food near you. 
Healthy Anywhere
Conscious. Clean. Curated.™