This article is part of our restaurant series, featuring remarkable independent restaurants that embody Healthy Anywhere standards and sensibility. 
The Plant Cafe Organic (San Francisco) - Too healthy to fail
This mission-minded independent restaurant has stood strong by high standards over the years. They press on through the previously-unimaginable strain and stress brought by the pandemic.
Matthew Guelke, co-owner of The Plant Cafe, sat down with Leigh virtually to discuss their history and how and where they stand today. 
100% organic, local, sustainable fare
Health-focused and plant-forward with juices, salads, bowls, and more. 
Juices focus on nutrient-dense dark green vegetables. Think less sweet, more alkalizing greens.
Opened as "Lettus" in 2006, later renamed "The Plant Cafe Organic"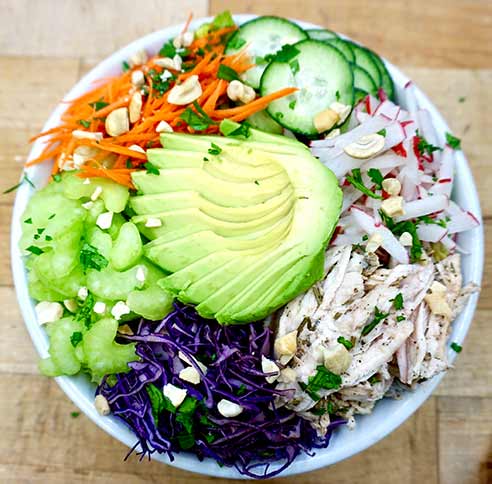 Origin story: Family health tragedy brings new inspiration
A family member's health tragedy prompted Matthew's family to dive deep into nutrition and health. Together they attended a 3-week holistic health retreat featuring an all-organic plant-based diet. Both his parents experienced incredible health improvements, and everyone felt much better afterward. Matthew was hooked and newly inspired to help others experience the same. Envisioning a new restaurant with his soon-to-be business partner, they planned to make 100% organic, plant-forward eating and juicing 'easy' for people. 
"When you remove the things that aren't healthy for you, your immune system improves. I learned that knowing what's NOT in your food is just as important as knowing what's in your food." 

–Matthew Guelke, co-owner of The Plant Cafe Organic (SF)
Fostering a more virtuous cycle
They went on to create a cafe like no other.
The Plant Cafe Organic promotes optimal health & wellbeing for people and the planet, in support of a more sustainable world. 
Their focus: 
Sourcing all organic ingredients, near exclusively local from the Bay Area. Only lower carbon meats like chicken and pork are included – always organic and sustainably raised. Wild salmon is also featured. 
A business model that accepts "good-enough" profitability in order to maintain high standards for ingredients and to provide fair wages, including health care benefits, for employees
A menu that promotes wellness and aims to help reduce the pharmaceutical burden through clean, whole-foods eating and health-promotion.
Passing up the chance to cash in (or out)
Given their success and popular rise in San Francisco, Matthew and team were courted by VCs.
It was tempting – they'd always envisioned bringing their model to new markets and becoming "like the McDonald's of organic healthy fast food". 
But at the end of the day – and nearly the 11th hour – they gave the opportunity a hard pass. The writing was on the wall — a large cash infusion would put immediate pressure on profitability and inevitably undercut their standards for sourcing high-quality, 100% organic ingredients. It was a non-starter. 
Navigating unforeseen challenge
"Our mission is simple and our vendors amazing, but the business isn't always, especially lately."

–Matthew Guelke, co-owner of The Plant Cafe Organic (SF)
The COVID-19 pandemic brought unimaginable stressors and sobering stats.
Pre-pandemic, less than 25% of orders were lower-margin delivery orders, and suddenly they were 95%. Nearly ALL of the business. 
They immediately closed 3 of 4 main locations and had to lay-off 85% of their near-100 employees. Now a year later, they're still challenged by ongoing lease negotiations.  
Despite it all, Matthew remains calm and confident in their ability to move forward one way or another. 
He's looking at ways to expand the menu and lean-in to more takeout and even delivery orders. One soon-to-come expansion involves all-organic BBQ featuring the same low-carbon meats (chicken & pork) with delicious sauce and sides. 
The pandemic also brought a renewed appreciation for simplicity and reflection on the most important things in life like family, health, and friends. Matthew is grateful to have the opportunity to be more intentional and to spend more time with his son.
What helps keep him focused and in the present? Lately, he's found 1.5-hour early morning meditation sessions and 5-mile walks invaluable for keeping grounded.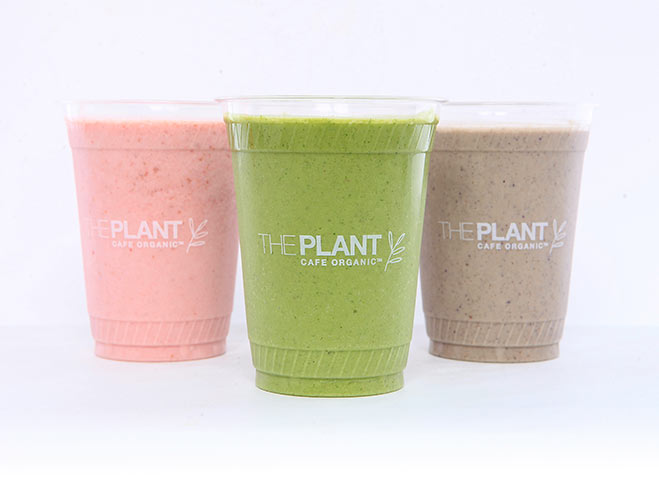 Support The Plant Cafe Organic
If you're inclined to support keeping such a remarkable healthy restaurant open, consider supporting their GoFundMe campaign. Any level of support is appreciated. 
And order takeout when not dining onsite, please! 
If you're near San Francisco, by all means, place an order for takeout on their website and go pick it up in person!
Check out meal kits paired with a bottle of organic wine or craft beer. Add farm-fresh organic groceries and pantry items to your meals – and don't forget to snag extra Plant burger patties(!) – available packaged and frozen for your freezer. 
If you do check out the outdoor patio or onsite dining, remember to bring home ample leftovers and groceries! 
Photos courtesy of The Plant Cafe Organic, San Francisco, CA
Discover and support more like this
We're rounding up the best healthy, sustainable, and delicious places. Don't miss the chance to have that collection at your fingertips!
Web access (in Beta) is available only to those in our Community. If you haven't already, sign up to know when we launch in your favorite cities.
Discover the best healthy, sustainable, and delicious food near you. 
Healthy Anywhere
Conscious. Clean. Curated.™