One question to ask before placing the next order at your favorite local restaurants. 
It's 6pm. You'll soon be hangry. Cooking is out of the question. Far too exhausted for that. The thought of even getting in the car makes you cringe. 
Delivery it is. 
You open a delivery app and find one of your favorite spots listed. The nearby cafe sourcing tons of local ingredients run by that cute couple that you want to see succeed. They could really use your business right now.
Once that order of pastured chicken and roasted veggies arrives, you chow down, satisfied knowing that you're still supporting them even though you didn't make it into the cafe.
…or are you?
Have you ever asked how delivery affects your local restaurants?
It's okay. Most folks haven't thought to. But there's a hard truth none of us really want to see about delivery services. They often take a big cut from restaurants. As in, a cut that may cause the restaurant to lose money on your order.
Often we're blind to the real commissions and fees that third party platforms charge the restaurants. Never mind these businesses tend to operate in a non-sustainable way, losing sums of money in the name of buying market share. We don't really drill into the question — where exactly is the money going?
"To help ensure the longevity of our business… please call in your order and pick it up at our window."  — plea from Wildseed Restaurant, San Francisco, CA
 "while the major expenses are labor and rent, delivery is literally 'a killer'" — Matthew Guelke, CEO & co-founder of The Plant Cafe Organic, San Francisco,  CA
'Healthy' means healthy economy too.
When we think about what's healthy and sustainable, we can't just stop at the ingredients. We've gotta look at the health and sustainability of our local restaurant economies too. It's all for naught if we aren't helping them thrive.
As we created the business model for Healthy Anywhere, we knew we didn't want to be another third party platform grabbing from the already-slim margins of restaurants we love. We wanted our business model to directly demonstrate our spirit of partnership and support for healthy local restaurants.
We opted to let eaters raise their hands and pay reasonable fees to have access to the best choices, instead of placing more burden on the restaurants. We feature hand-selected restaurants our community will love, and the restaurants do not pay a dime. When you join our soon-to-come membership and use Healthy Anywhere in your healthy food searches, you're choosing to support a healthier restaurant economy too! So that's step one in supporting restaurants. Join the Healthy Anywhere community! Shameless plug 😉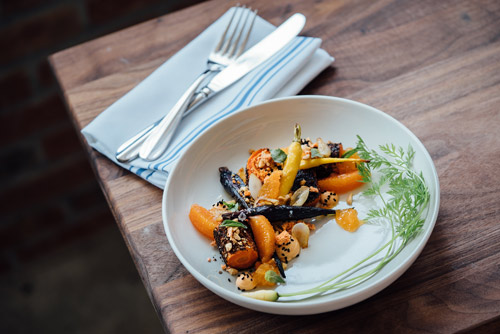 How can you make sure you're supporting restaurants?
Ask your favorite restaurants about it! Start a conversation, and find out how third party platforms affect them. When you order a meal via one of those services, how much of it do they see? Does it make it hard for them to make money and survive as a business? Most restaurant owners would love to know that eaters really care about their favorite restaurants' ability to thrive. 
When you join as a Healthy Anywhere member*, you'll get clear visibility into such restaurant preferences, as we seek to answer these questions for you. We always note a restaurant's indicated preference to order and support them. 
* coming soon, per your preferred locations
One question to ask: "What's your preference in how customers order from you right now?"
This ain't a guilt trip...
At times, it may be more convenient to use delivery services. We're not here to guilt trip you about that. Life is challenging enough without unsolicited judgement. We just want you to have all the scoop to make informed decisions, so you truly know what is or isn't supporting the restaurants you love! 
If you're looking to find the healthiest restaurants without relying on services that take hefty cuts or marketing fees, give us a try. We're building a living collection of the best healthy, sustainable, and delicious restaurants – and a community that truly supports restaurants. We'd love to have you on board! Sign up to know when we're live near you.
But what about those "commission caps" mandated on delivery apps in places like New York City, San Francisco, etc? Don't they help?

What many don't realize is the "commission caps" on delivery apps have spawned new or increased other fees, like "marketing fees". So the burden's no less on the restaurant.

For example, take a service with a usual 30% commission in a city that now has a 15% delivery commission cap. That same service now has a 15% delivery commission.. and a new 15% "marketing fee". Voila… Optics in. Healthy payment for restaurants (still) out.
Discover the best healthy, sustainable, and delicious food near you. 
Healthy Anywhere
Conscious. Clean. Curated.™