This article is part of our Nutrition + Dining series. Here we explore holistic health topics and share favorite dishes from aligned restaurants.
Finding a good breakfast that's also healthy (and sustainable)
Updated: October 17, 2023
We all know that breakfast is arguably the most important meal of the day, no matter when you decide to eat it. But with so many choices, it can be hard to decide where to go. That's why we've done the research for you and compiled a list of the top healthy breakfast spots in the San Francisco Bay Area. 
We reviewed menus from over 440 preferred restaurants around the Bay Area to find the best options for a great breakfast. Seven of our top picks are included below.
When evaluating a truly 'healthy breakfast' we specifically want to see leafy greens and veggies, in addition to other criteria. 
Over 40 spots around the Bay (and 185+ nationwide) so far have been designated as having such remarkable best breakfasts in our app, exclusively available to app subscribers.
In our app: Search for bbreakfast and see what pops up!
Whether you're looking for pasture-raised eggs, veggie bowls, chia seed pudding, or sourdough toast, we've got you covered! There are many delicious and nutritious options available to enjoy.
So what are you waiting for? Get out there and start exploring the Bay Area's top breakfast spots with healthy, sustainable, delicious eats!
Enjoy this 'taste' of healthy. In no particular order.
Healthy Breakfasts around the Bay
1. Cafe Umami (Oakland, CA)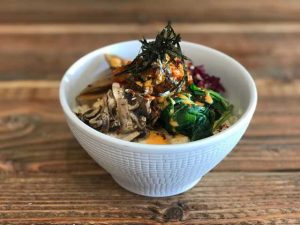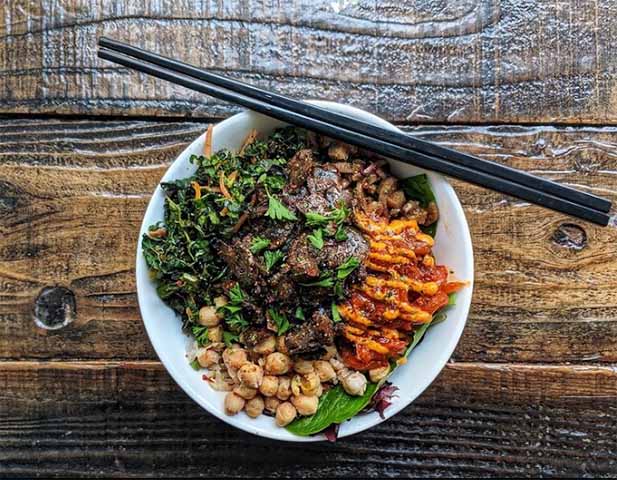 While Cafe Umami discontinued breakfast hours and will permanently close in late November 2023, we'll never forget their nourishing bowls that are awesome for breakfast, lunch, or dinner. 
Literally any of the offerings can be adapted to any diet whether vegan, vegetarian, or omnivore. And they're simply delicious and nourishing. 
We love that each grain bowl, jook, or salad starts with a solid "base" of ingredients like roasted kale, burdock pickles, and sauerkraut. Lacto-fermented superfoods made in-house provide extra micronutrients and promote gut health.
So you can't go wrong. No matter which option you choose, you'll get some greens and eat healthy for your gut microbiome. And don't miss healthy add-ons like seaweed salad, kimchi, poached egg, and avocado. 
Wanna keep it simple? Get a base grain bowl and add a poached egg. 
Wanna go vegan? Get the Vege Power bowl with protein-packed, gut-friendly tempeh. 
Want extra Omega-3s? Add sardines. One of many potential add-ons. 
And there's chia seed pudding made with coconut milk if you need a lil' extra something. 
Update: as of Sept 2023, the Uptown Oakland Cafe Umami location has shuttered, and Dimond District is open 11:30 am – 1:30 pm until mid-November 2023 when all operations sadly shall cease. 
Photos courtesy of Cafe Umami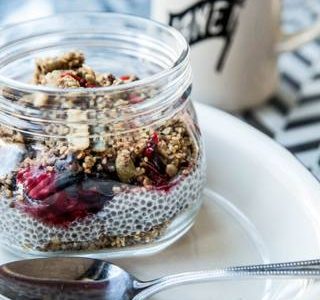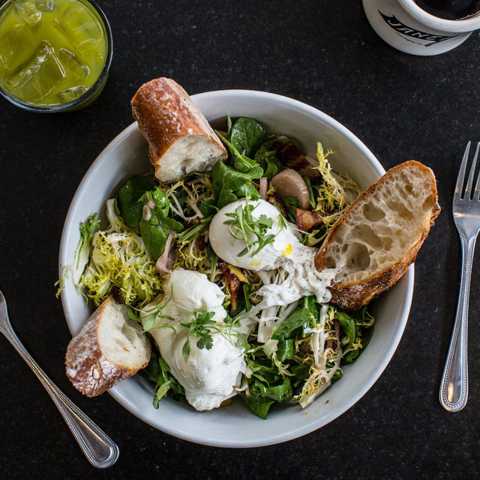 You know we love greens with breakfast and jump at the chance for a good breakfast salad or bowl with greens. Jane has one such salad, and it's available all day! 
The "Green" smoothie is also a hit, packed with micronutrients while retaining all the fiber. 
Other nourishing options include their warm quinoa bowl, chia pudding parfait, house granola with local Straus yogurt, toasts galore, and we could go on…
All-day breakfast and brunch with standout options.. plus stellar lunch salads! Just go. 
4 locations in SF: Jane on Larkin, Jane on Fillmore, Jane the Bakery, Little Jane on Grant 
Photo courtesy of Jane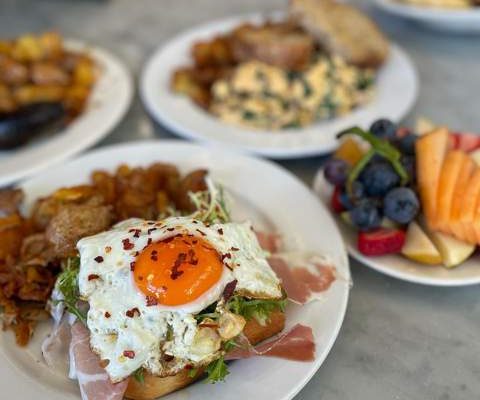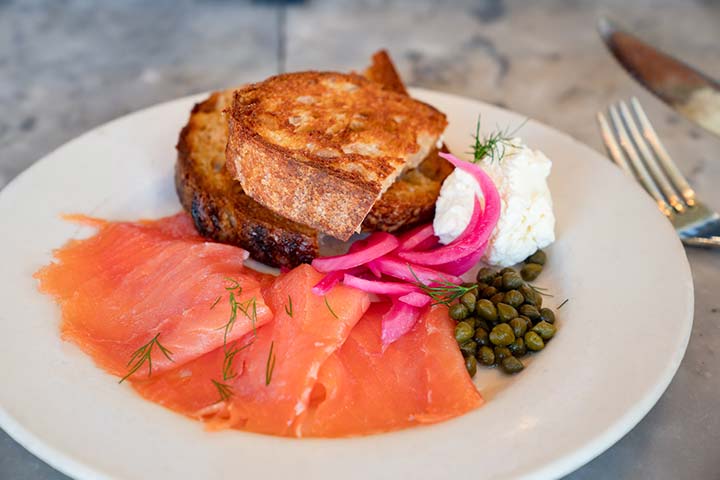 Speaking of all-day breakfast… Plow offers a bit more indulgence with farm-to-table comfort fare perfect for breakfast and brunch-lovers, seven days a week til' 2 pm. 
There are plenty of healthy options with pasture-raised eggs, seasonal salad and veggies, chia pudding, and house-made granola with whole local yogurt. 
And then there are all those things you want your friend to order… so you can have a bite (or three!) like pancakes and french toast – including a gluten-free pancake option. 
Mondays and Tuesdays feature a hearty special for omnivores like the Chinese Breakfast with caramelized pork shoulder and eggs. 
There's even a remarkable "little plowers" kids menu. 
Photos courtesy of Plow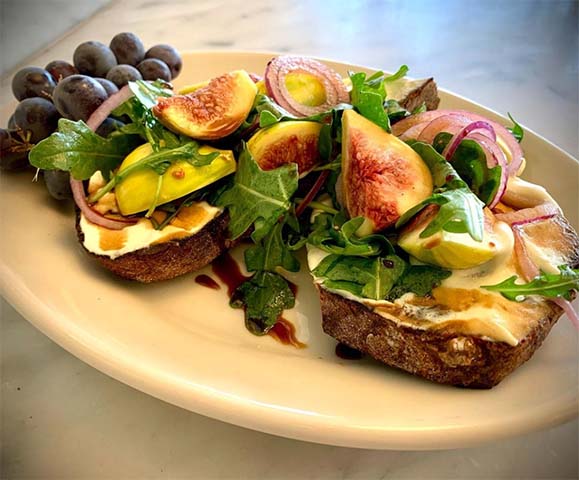 MH B&B also offers all-day breakfast/brunch from 8 am – 3 pm every day in a casual and relaxed setting. 
Creative preparations with pickled accents and house-made artisan delights beckon. Most dishes come with ample veggies and greens, and you can add more greens on the side. 
And yes… there's a breakfast salad!
Do try the baked eggs with roasted cruciferous veggies and sweet potato.
The beet hummus bowl can be made vegan by removing the sheep feta cheese. 
MH B&B adds toasted coconut to their house granola with local Straus whole yogurt and seasonal fruit. They also serve kombucha and an array of bakery treats in addition to various toasts, salads, and sandwiches. 
Photo courtesy of MH Bread & Butter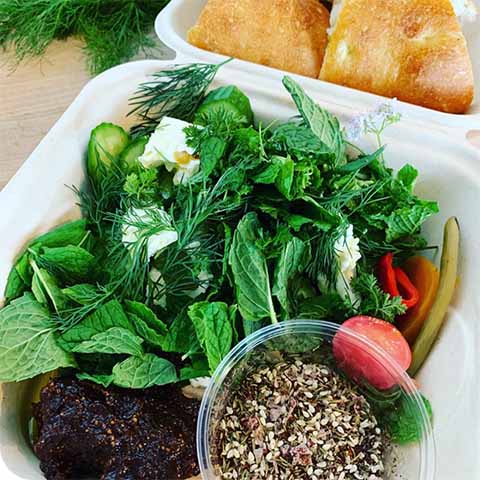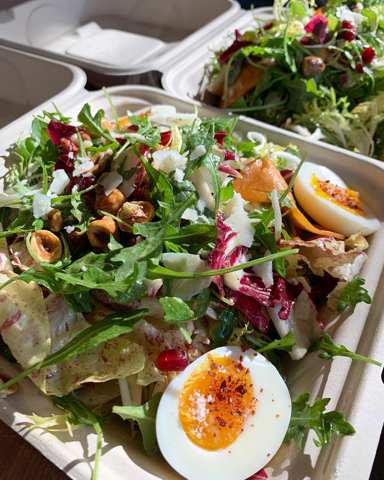 Fridays and Saturdays you can get the beloved Persian breakfast at this seasonal bakery and cafe starting at 8 am.  
They always have a perfect jammy eggs and savory five-grain porridge (slow-cooked & gluten-free). 
Seasonal toasts and salads also delight — every year, we just can't wait for the summer tomatoes to make an appearance! 
And don't miss delectable ephemeral creations by pastry Chef Nellie. 
Bartavelle moved into an expanded modern space as of June 2023 and launched an evening wine bar with healthy bites Thurs – Sat starting 4pm. 
Photos courtesy of Bartavelle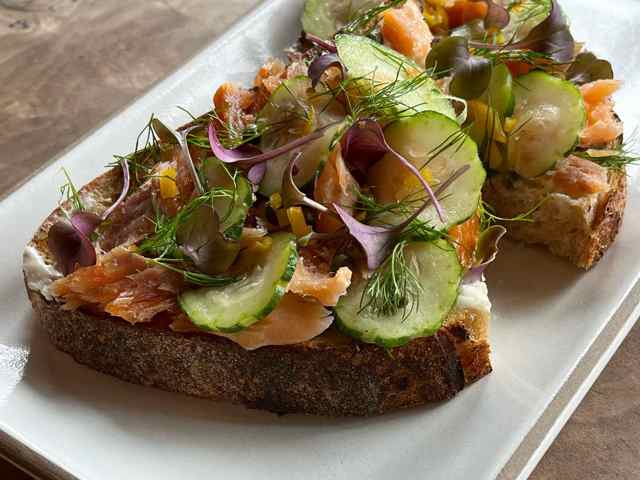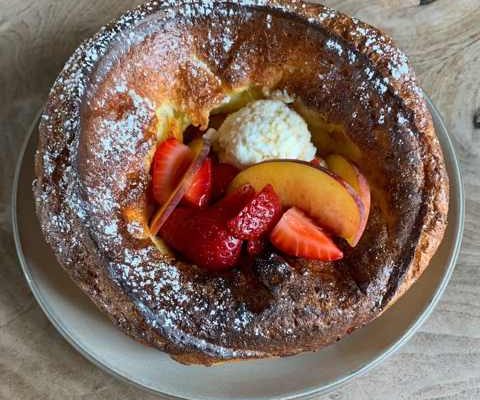 Outerlands is another all-day brunch place offering tantalizing indulgences and healthy fare at once. As with all our picks, their sourcing is second to none with high-quality, locally-sourced, organic and sustainable ingredients. 
There's nearly always a wonderful salad or seasonal veggie bowl, plus chia seed bowl with fresh fruit, toasts, and more.  But we're not gonna mention that devilish dutch pancake everyone raves about! 
We were over the moon when Outerlands reopened after a long pandemic slumber. 
Photos courtesy of Outerlands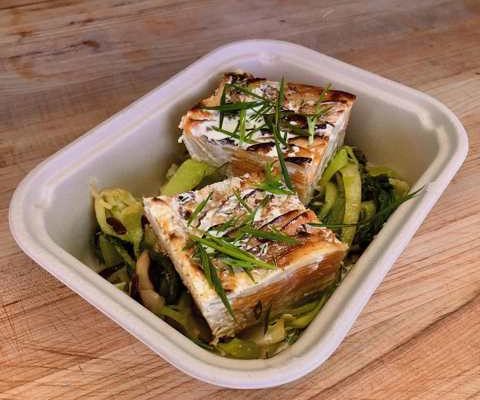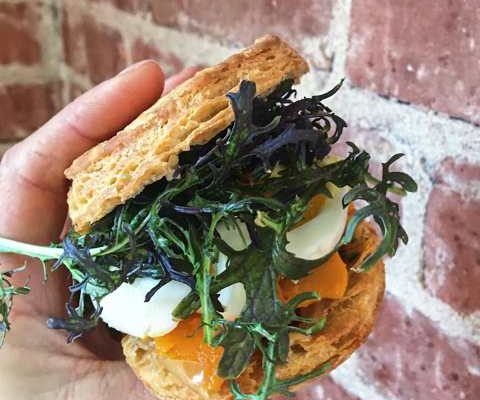 Standard Fare's great for a healthy bite on the go, with a succinct and well-executed menu of delicious breakfast items like the frittata with pastured eggs and fresh seasonal vegetables. 
There's also a savory blend of stone-cut oats, millet, and amaranth topped with deliciousness (go easy on the butter and maple syrup). The house-made yogurt is also a specialty, served with seasonal fruit.  
And then there's that insane buttermilk biscuit breakfast sandwich plus seasonal baked goods (not gonna mention the olive oil cake!) that look too good not to try. 
Photos (+ cover) courtesy of Standard Fare.
Find delicious healthy meals all day
We hope you enjoyed our roundup of favorite top places for a great breakfast in the Bay Area. All of these spots have healthy, sustainable, and delicious options to help start your day off right. 
If you're looking for more amazing places to enjoy a great breakfast – or any meal – be sure to check out our curated mobile app with over 1,500 hand-selected places (and counting!) from the Bay Area and beyond. Thanks for reading!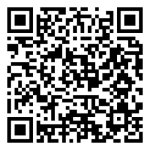 iOS mobile: App QR code
Get the App today!
Discover the best healthy, sustainable, and delicious food near you. 
Healthy Anywhere
Conscious. Clean. Curated.™