Introducing verified spots to find snacks and desserts using natural sugars and more wholesome ingredients. We do the work so you don't have to.
Sugar and spice - maybe not so nice. The ills of sugar..the ultimate vice
Never mind if you're paired up or not, Valentine's day can be tricky for inflammation warriors or for those watching sugar intake. 
As we know, sugar's pretty much the root of all evil: 
Sugar addiction

Blood sugar & hormone imbalance

Mood & Sleep disruption

Immune system dysfunction & inflammation

Metabolic disease, Diabetes, Heart disease

Tooth decay, bone loss 

And more… 
Too much sugar ongoing in any form can lead to a vicious cycle. The more sugar you eat, the more sugar you crave, the worse you feel, and the more dependent you become. (The commercial food industry's exploited the heck out of this – refined carbohydrates, sugars, and artificial sweeteners especially wreak havoc on your health.)
The best way off the sugar addiction hamster wheel is through wholesome, real food. For most of us, ideal daily 'sweets' should come from whole fruit in moderation (~3 servings a day) as part of a healthy whole food diet. 
And there's no problem with an occasional "treat", so long as you don't find yourself addicted or experiencing mood swings.  
With that healthy context in mind…
Treat yourself to better-for-you treats
In honor of Valentine's day, Healthy Anywhere launched a "better treats" feature within our Collection 📱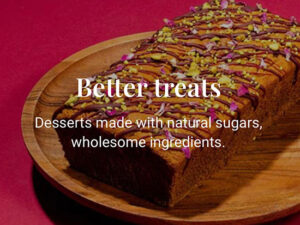 Within two clicks, you can easily see where to get "better treats" nearby.
Collection subscribers will find this option on the home page of both desktop and mobile. 
Only places that meet Healthy Anywhere standards and offer verified lower-glycemic treats using natural, unrefined sugars get this designation. Each is individually reviewed and hand-selected by a certified holistic nutrition professional. (We do all the digging, so you don't have to!) 
Our collection is live throughout San Francisco Bay Area with many more future locations nationwide lined up. 
What sugars are considered "natural"?
One foundational requirement of being considered a "natural sugar" is that no refined sugars are allowed. 
And that's where this gets sticky…
Ideal unrefined sugars include date paste made from Medjool dates, pure maple syrup, honey, bananas, coconut sap, fresh-squeezed fruit juice. Amasake is rare but preferred if we can find it. 
The granules are tricky. Pure unrefined dried cane juice is preferred over organic cane sugar, as the latter tends to be highly processed. Even brown sugar or turbinado sugar may 'look' natural but in reality, are highly refined and chemically processed. 
When in doubt, we count it out. Better to be more conservative than not in this case. 
Another option beyond unrefined dried cane juice includes unrefined coconut sugar. Both of these retain more of the natural goodness and trace nutrition. 
What about fiber and other "wholesome" ingredients?
High fiber is key for a healthy diet. When you eat a whole real-food diet, you'll naturally get great fiber from ample vegetables and fruit. Additional fiber through organic whole grains, flaxseed, chia seed, hemp seed, and more = the icing on the cake. 
Beyond natural sugar ingredients, we love to see freshly-milled healthy whole grains and seeds like buckwheat, teff, and sorghum for gluten-sensitive folks. We also love fresh-milled naturally leavened sourdoughs, rye, and more. 
Staying healthy is all about balance. We don't begrudge the occasional soul-satisfying, wholesome artisan treat made with clean ingredients and lots of love. 
We do include such artisan bakeries in our Collection. And while they may not receive the 'better treat' designation per se, they can be easily found by using our "artisan" filter or searching for "bakery". Easy peasy. 
Better treats meets healthy eats
We're constantly scoping menus, sourcing practices, and more to find you good local food that's healthy for body, Earth, and soul. 
Throughout SF Bay Area (and more locations soon), you can use our web app to quickly view Healthy Anywhere verified spots for healthy eats.
We include all the info you need – like recommended dishes and direct links to order – and nothing you don't.
Conscious. Clean. Curated.™
Our Collection helps you find the best food choices when eating out or ordering in.
Become a member - SF Bay Area
Access our curated collection
Enjoy healthy, delicious, and sustainable eats near you!
*Billed annually at $29.99. Preferred annual membership for first 500 subscribers
Outside SF Bay Area? Stay posted!
Know when we're live near you
References (IE sources we trust for the scoop on sweets):
Pitchford, Paul. (2002). Healing with Whole Foods. (Chapter 11: "Sweeteners") Third Edition. North Atlantic Books.
Segersten, A & Malterre, T. (2012). Nourishing Meals. (pp 414-415) Whole Life Press.
Discover healthy, sustainable, and delicious food near you. 
Healthy Anywhere
Conscious. Clean. Curated.™