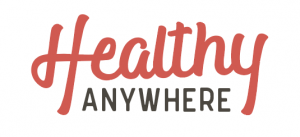 An ambitious Aussie cafe aims to nourish our souls, starting with our cells. 
The health-conscious and sustainable Australian beach cafe, Estabar, didn't exactly start out that way. Its original intention was a communal artisan espresso and ice cream shop. 
Get your buzz and enjoy the breeze. 
But as owner Bec Bowie worked the espresso machine, she consumed the equivalent of 7 or more cups of coffee each day. She constantly tasted shots to make sure they were "dialed", a testament to her passion for excellence. 
Running a cafe is hard work and stressful business. Despite a relatively healthy diet, Bec developed an autoimmune condition after three years of working round-the-clock and consuming way too much caffeine. Her thyroid was messed up, and her body was beyond run down.  She knew something had to give. 
Bec decided to take time away to reflect and find healing for her body and soul. She went all the way to Manhattan to study holistic food and nutrition. During this time, her faithful partner and staff kept Estabar humming, and Bec also made time to work at Danny Meyer's acclaimed NYC Indian restaurant, Tabla (now closed). It was at Tabla where she learned about sustainability, waste management, and utilizing fresh local produce. She was struck by the simplicity and efficiency of using what the land provides. "Indian cuisine is great for that type of cooking.." you simply use whatever vegetables are most fresh and in season, combine with wonderful spices and fats – and voilà – deliciousness!
Upon return home, Bec was intent to take Estabar beyond espresso and ice cream, and to make good on her new consciousness and learnings from Manhattan. 
Bec changed both the way she ate and what they provided in the cafe. Healthy daily breakfast and lunch options were added with the goal of "nourishing customers' hearts and cells". She figured if she could somehow connect customers to the love in their food – and make it delicious – that this would resonate in a healing way, down to their cells. 
And when we say Bec is conscious – we mean it! 
She selects her suppliers not only by their standards and practices but also by their love and connection to the final product. Local, pesticide-free, and chemical-free are all no-brainers. She's looking for integrity and heart. 
Originally raised on a farm, Bec is intimately familiar with the craft. She explained to me common commercial agricultural practices:  
Oranges shipped from the U.S. are intentionally picked way too soon, long before peak freshness, color, and nutrition. They're irradiated before departure, to prevent pathogens. They're sometimes also sprayed with chemicals to keep them fresh, and then crammed into containers. Upon arrival to Australia, the oranges commonly turn up covered in mold. So they're rinsed off, cleaned up, and sometimes irradiated again for good measure. Finally, they're "gassed" for color. Literally, a chemical's applied to make the sad oranges 'look' as if they're fresh. 
All that effort for year-round "sad" oranges. It's exactly the scenario Bec aims to avoid. "If our food can be healthful and robust, then we can be a robust people.. but if we're eating gassed food, shipped a long way, that doesn't make for such a healthy, robust community." 
She wants Estabar customers to learn to connect with seasonal patterns and enjoy what's local and fresh at the moment. She serves local oranges picked at their prime – just when they need to be eaten. Avocados, while popular nearly everywhere, can be scarce in Newcastle – and when available, they're rightfully celebrated on the menu, but not a single day beyond. 
The staff is enthusiastically on board with the mission. And Bec is mindful of nourishing her team so they, in turn, can nourish the customers and the broader community. 
Together with her staff, Bec looks to educate and expand our awareness of environmental concerns. One example's almond milk. Almond groves are notorious for harming the bee population and for inefficient use of water. While almond milk's an extremely popular dairy substitute, Estabar decided to pull it from the menu. In its place is a homemade blend of local macadamia and hemp milk. "Almond milk's just so over-done these days. But we don't want to alienate our almond milk drinkers, and we're working to respectfully perfect and roll out our new milk – and explain why we're doing it."
Other features from the menu are pastured eggs from a fifth-generation farmer in the Hunter Region of New South Wales. They cost Bec twice what she could pay elsewhere, yet Estabar's standards remain. A local baker provides the best sourdough bread in town, and each loaf is made from fresh-milled local wheat over a three-day process. The field-grown tomatoes are carefully sourced 2-3 hours away by car because they're the most delicious.  
Such high-quality food Bec says is "money in the bank.. and feeds your health".
Estabar Cafe
61 Shortland Esplanade, Newcastle Beach, Australia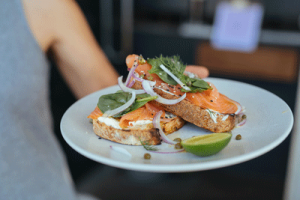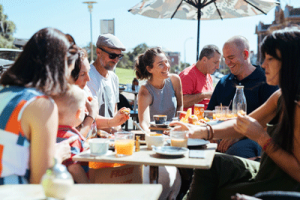 Healthy Anywhere helps executive travelers enjoy delicious, organic foods, and stay healthy, anywhere in the U.S. Our healthy concierge services include: travel nutrition and meal planning, food delivery, fitness support, and accountability. If you or someone you know would appreciate this level of support, get in touch to work with us.
If you haven't already, join our Healthy Anywhere community to receive blog digests, exclusive email updates, and distinct deals personalized to your home and travel cities. Let us bring you the best, so you can be your best.
Eat Clean + Breathe Deep + Move Often = Never Settle™