This article is part of our restaurant series, featuring remarkable independent restaurants that embody Healthy Anywhere standards and sensibility. 
From Plant to Plate: Restaurants harvesting from onsite gardens
We set out to find remarkable examples of hyper-local restaurants growing and harvesting onsite per organic practices. 
Our criteria?
hyper-local onsite growing and harvesting for service. Literal plant to plate, garden to table dining. 
dedicated to organic, sustainable practices
growing a good selection of leafy greens
across the lower 48 states (U.S.)
We found so many great places to share with interesting aspects – rooftop gardens, onsite greenhouses, apiaries, and more – but for the sake of providing a 'taste', this article is limited to five of the top.
The complete collection of places and features will soon be available through our web app – a living, breathing collection of the best healthy, sustainable, delicious places – specially curated for our members only. (details below)
Quiessance at the Farm (Phoenix, AZ)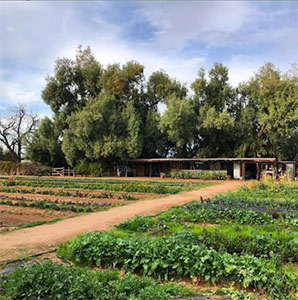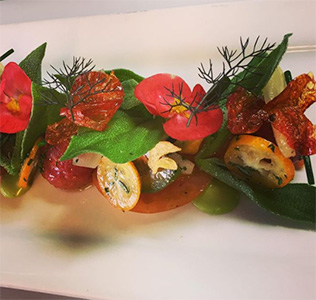 Photos courtesy of Quiessence
Not a 10-minute drive from Phoenix lies a must-see desert oasis with farm to table dining… on the farm. 
The Farm at South Mountain is home to three restaurants and a large organic garden all helmed by Executive Chef Dustan Christofolo. The impressive gardens provide specialty veggies, leafy greens, and herbs — plus fruit from over 60 types of fruit trees and eggs from onsite chickens. 
Chef Dustan and team create memorable multi-course tasting menus at Quiessence, the fine dining option of the three. Chef plans the gardens each season and collaborates with nearby sustainable growers who help tend the plots.  
The menus are farm-driven based on what's ready for harvest each week or each day — subject to whims of nature. A rogue gopher recently prompted swift harvesting to save kohlrabi. Menus were immediately reconfigured. The team appreciates how working with the land keeps you creative and on your toes. Never a dull moment!
The farm also offers a seasonal CSA program, community classes, events, & more. 
The Hope Farm (Fairhope, AL)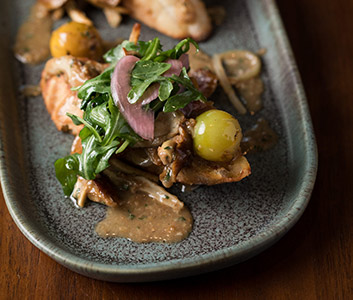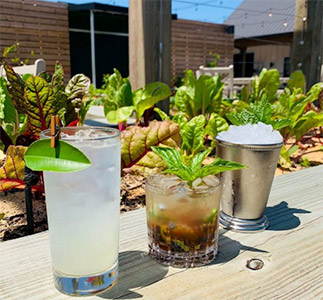 Photos courtesy of The Hope Farm
Sustainability is front and center at The Hope Farm, where hydroponics yield year-round leafy greens and herbs, and raised beds host seasonal vegetables.
They further add mushrooms to create a virtuous cycle.  
A variety of gourmet mushrooms grown onsite decompose food waste and provide rich organic matter to fertilize the raised beds. Not to mention, these delicious mushrooms are featured in several dishes. 
The hydroponic garden produces the equivalent of an acre of farmland, in a tiny fraction of the space. On the menu, we spied bok choy, microgreens, various basils, collards, and arugula. Fruit orchards feature figs, blueberries, kumquats, satsuma oranges, and more 
The Hope Farm opened in Summer 2020 amid the pandemic and was quickly embraced by the community. 
Season's Harvest Cafe (Cypress, TX)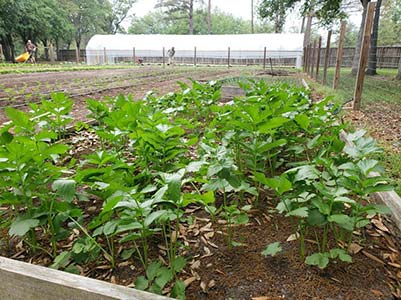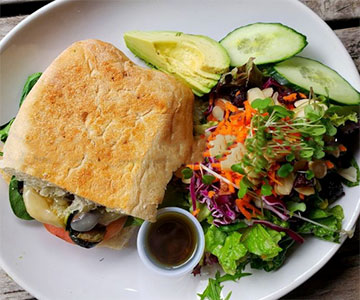 Photos courtesy of Season's Harvest Cafe
About a 30 min drive southwest from The Woodlands and 40 min northwest of Houston is an 8-acre family farmstead, home to Season's Harvest Cafe, chickens, goats, 3-acres of organically farmed produce, and a general store. (and yes, you can pet the goats!)
Inside the main building, the cafe serves healthy and hearty scratch-made breakfasts, lunches, and light communal dinners. Pastries and pancakes are made from freshly-milled organic grains. Also: fresh-pressed juices, smoothies, hot tea, and espresso. 
The farm's leafy greens, veggies, fruit, and herbs are found throughout the menu and may also be purchased at the General Store or through the CSA program. The general store also offers local meats and cheeses, eggs from the onsite chickens, and cafe sauces and dressings. 
"Wholesome" is their mantra – embodied in food, farming, and the community-forward, friendly space itself. Community classes, concerts, and events are ongoing.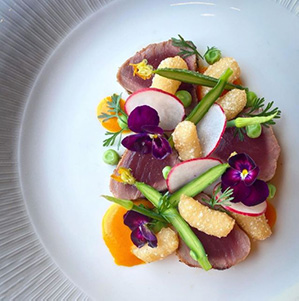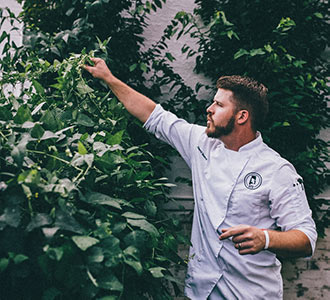 Situated on one "acre" of land (1.09 to be exact!) Acre is surrounded by a carefully planned and executed edible landscape.
Fruit trees and bushes line the perimeter, producing peaches, pears, olives, berries, and more. Raised planters house ever-rotating specialty heirloom vegetables, grown from seeds sometimes gifted from chef friends near and far. 
At the core is Owner Chef David Bancroft's dedication to creating a thriving local economy around the restaurant – akin to Thomas Keller's Yountville.  
While the vision was crystal clear in Bancroft's mind, the city took a bit of coaxing in the beginning.. Fruit trees planted around a restaurant? Planters of vegetables? Most businesses maintained typical dogwood, oak, or magnolia trees for beautification. Would these more 'functional' trees be aesthetically pleasing and acceptable to the community?
The community has since taken to the vision — at times perhaps too much, as would-be fruit snatchers are kindly reminded by staff that the orchards provide ingredients for the restaurant!
The Harbor House Inn Restaurant (Elk, CA)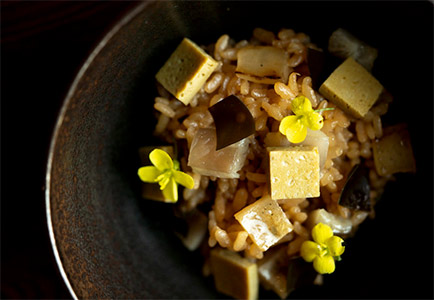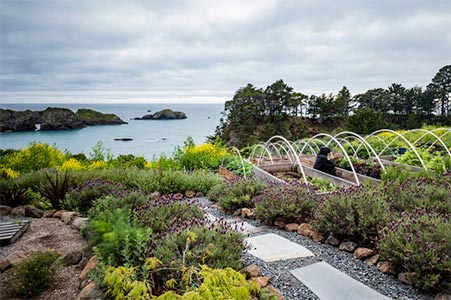 Photos courtesy of Harbor House Inn
Tucked away on the windy picturesque coastal highway south of Mendocino — Elk, CA is home to the Harbor House Inn, hosting a mix of 11 exclusive rooms and cottages and a Michelin-starred sea-forward restaurant.
Directly overlooking the Pacific, The Harbor House Inn has a unique climate for onsite farming. A greenhouse shields seedlings from the elements, while raised beds embrace the open air, providing an appreciated light seasoning of salinity. Sea vegetables from nearby waters are featured on the daily changing menus. Onsite chickens provide fresh eggs for overnight guests' breakfasts. 
Anything that isn't foraged or farmed directly onsite comes from specialty producers within 30-miles, holding true to the hyper-local, sustainable ethos. 
The 2-hour tasting menu is well worth the drive from San Francisco — and there are rooms, if you plan accordingly! Nightly tasting menus Thurs – Monday. 
Where's the complete collection?
We're rounding up the best healthy, sustainable, and delicious places. Don't miss the chance to have that collection at your fingertips!  Relevant at-a-glance info helps busy, health-conscious eaters enjoy the best food choices. 
Web access (in Beta) is available only to those in our Community. If you haven't already, sign up to know when we launch in your favorite cities.
Discover the best healthy, sustainable, and delicious food near you. 
Healthy Anywhere
Conscious. Clean. Curated.™