Our shortlist of top recommendations for healthy living, anywhere.
Products featured here are trusted. They're loved and have been used extensively, for a long time. 
The ultimate solution for a healthy office: Keep moving with an under-desk treadmill.
We spend massive time at our desks. And we've all heard "sitting is the new smoking". So what are you doing about it? 
I've had this under-desk treadmill since 2018 and simply could not live without it. Starting a business is no easy feat – I've spent countless 70-80+ hour-weeks at the desk. One thing that keeps me sane is walking while I work! (and yes, of course, eating clean too!)  
The treadmill's quiet motor and adjustable speed allow me to walk and talk on phone calls, and even video calls. (If you've had a video meeting with me, you know this is true!) I often walk while writing and watching video content. 
I aim to walk a minimum of 1.5 hours total each day at the desk.
It's near 1 pm, and I'm walking as I type this. I've already hit 9,645 steps, with a total of 1 hr 28 minutes, so I'll likely hit closer to 2 – 2.5 hours today! That said, 6k+ steps a day on this thing is great for most anyone.
If we're going to live Healthy Anywhere – we need to take a close look at how we're working!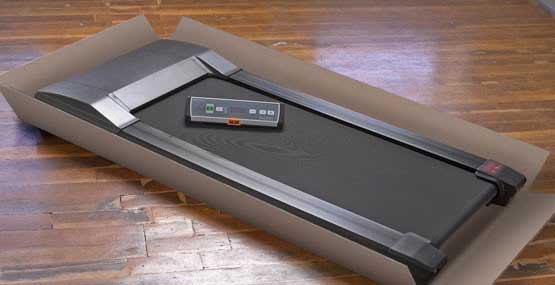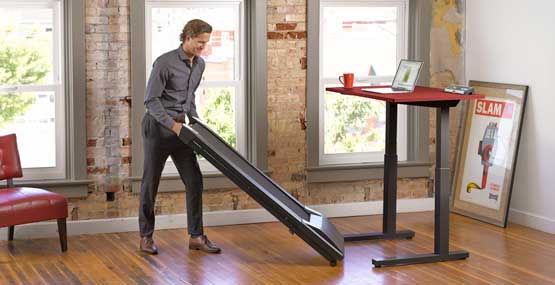 A few technical notes: 
I bought the smallest model (i.e. base model, "TR800″), so I could easily fit both the treadmill and a chair under my desk, which is 60" wide and adjusts vertically for sitting to standing.
The intermediate model is 2″ wider – so if you want a wider base, check it out. The premium model is 2.5″ wider than the base model and has a more robust motor for all-day continuous use (e.g. if sharing a workstation). There are also options that come with a desk if you don't already have one. 
The display console tells you exactly where you're at with time, step count, and more – simply hit reset each morning to start fresh!
Make sure to purchase 100% silicone lubricant to keep your treadmill in good working condition. Application is needed after ~40 hours of use, so I put a ticker on my calendar every 20 days to spray the treadmill belt. (It's easy – just be sure to buy lubricant! Available on Amazon if soldout in Lifespan Accessories) 
I once had dust accumulate around the motor after many months of use, so I now check under the hood every few months and quickly wipe it down with a dust rag to prevent accumulation. 
I learned the necessity of using the lubricant and keeping the motor clean when my speed sensor died after a year of negligent use (no lubrication care!). The service department was wonderful in sending a new sensor, for free, and I was able to easily replace it myself. BUT – the days I went without the treadmill were tough! Avoid my plight and take good care of it! 
If you don't have a wood or hard-surface floor (e.g. bamboo, etc) then you'll want to get a mat. You may want one either way to protect your floor and add extra sound-dampening. (For the record, I have a hard floor, and don't use one of these). 
I have my treadmill underneath an adjustable desk. You'll ideally want to vary sitting and standing throughout the day. If you have any questions on, email me: leigh [at] healthyanywhere [dot] [com].
Desk jockeys, rejoice – you can "move often" while you work! 
Eat Clean + Breathe Deep + Move Often = Never Settle™
Our relationship with Beautycounter, for Everyone
Never Settle means attention to what we put in and on our bodies.
We've proudly offered Beautycounter toiletries with our SF Bay Area client deliveries (currently N/A). We have a separate online store where anyone can purchase any of the products.  
We're impressed with Beautycounter's commitment to continuously review and intentionally ban harmful chemicals in daily skin and beauty products.
Skincare and Carry-on Necessities
Click on any product name or photo below to Order Now.
We never leave home without the below. Combat travel stress and dehydration with these antioxidant-loaded safer, cleaner products.
A hydrating pick-me-up for radiant, bright skin. I keep one bottle on my desk and one in my carry-on. Spray on face and neck throughout the day for an instant refresh. A good pre-or-post-landing ritual. (a spray or two works wonders) Also sets makeup.  
Cleanse, hydrate, and brighten with this ultimate multi-tasker. Also with Vitamin C and fruit oils, this must-have balm removes makeup and provides extra hydration for face and anywhere needed (elbows, heels, etc). Travel Size Available. 
Men's essentials, featuring safer shaving and showering/skincare to protect against stress – with a delicious scent loved by the ladies.  
Various regimens available per needs. 
A cleaner, safer, and high-performing anti-aging line. The cleansing oil and mineral essence smell divine with natural rose and geranium oils. The eye cream in this line is also my favorite. Note the oil and essence are not TSA carry-on friendly – they're too big. On the bright side, they're long-lasting for use at home!  
With amino acids, peptides, and a new patented 'Retinatural complex', Beautycouter has a cleaner, safer, and serious anti-aging serum! Optimize hydration and promote radiance while fighting fine lines and wrinkles. Use morning and night. 
Hands-down, my favorite night cream. It's the thickest and richest I've found, brimming with peptides.
Deeply hydrating. Intensifies overnight skin repair and promotes radiance with smoother, firmer, more hydrated skin in the morning. Use nightly, plus as-needed during the day. 
Leigh near exclusively wears Beautycounter makeup, with the 'Flawless in Five' set being a quick and easy go-to look.
We've tried a majority of the Beautycounter makeup and find the colors beautiful, the performance high, and the standards beyond. 
Products listed here are provided by third parties that we know and trust. We personally hand-select these – only. We may receive a small commission for any related purchase you make from the links above and very much appreciate your support.
Stay safe, stay healthy.